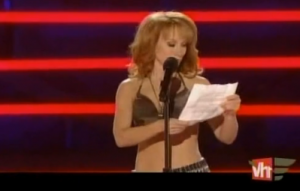 When Kathy Griffin joked that Bristol Palin looked like "the white Precious" after her supposed weight gain, her audience—a group of servicemen and women at the Marine Corps Air Station in Miramar, California—booed in response. Curiously, though, the group responded much more positively when Griffin made a crack about "deformities"—even though soldiers injured in battle must have been watching the show, VH1 Divas Salute the Troops, both during its taping and as it was simulcast around the globe.
Griffin's joke came during a bit in which she read a list of standards to which she was supposedly ordered to adhere. The audience howled as she recited the first entry on the list, "Entertainment must be wholesome and adhere to the standards of good taste." ("We f*cked that up already," Griffin said by way of response.)
Rule Number Three went like this: "Individual deformities will not be ridiculed." Reading that led Griffin to embark on the following riff:
"I know. Individual deformities. Uh, sue me, but that shit's funny. Hear me out. My left boob is actually bigger than my right boob—I know! Mine too! That is an individual deformity. And let me tell you something—20 minutes ago backstage, when I was giving a topless lap dance to the commanding officer—you know, I had my deformity. We were laughing about it. So that one's on him."
The crowd ate the bit up, especially the part about Griffin and the commanding officer. Still, joking about deformities in front of an audience soldiers seemed to be in especially poor taste. The program, VH1 Divas Salute the Troops, was sponsored by the USO, so it was likely broadcast on military channels around the world, including Military hospitals caring for soldiers injured in the line of duty. Clearly Ms. Griffin wasn't thinking of those individuals in making her insensitive remarks, though, that's also sort of the point.
Watch Griffin's routine below.
Have a tip we should know? tips@mediaite.com