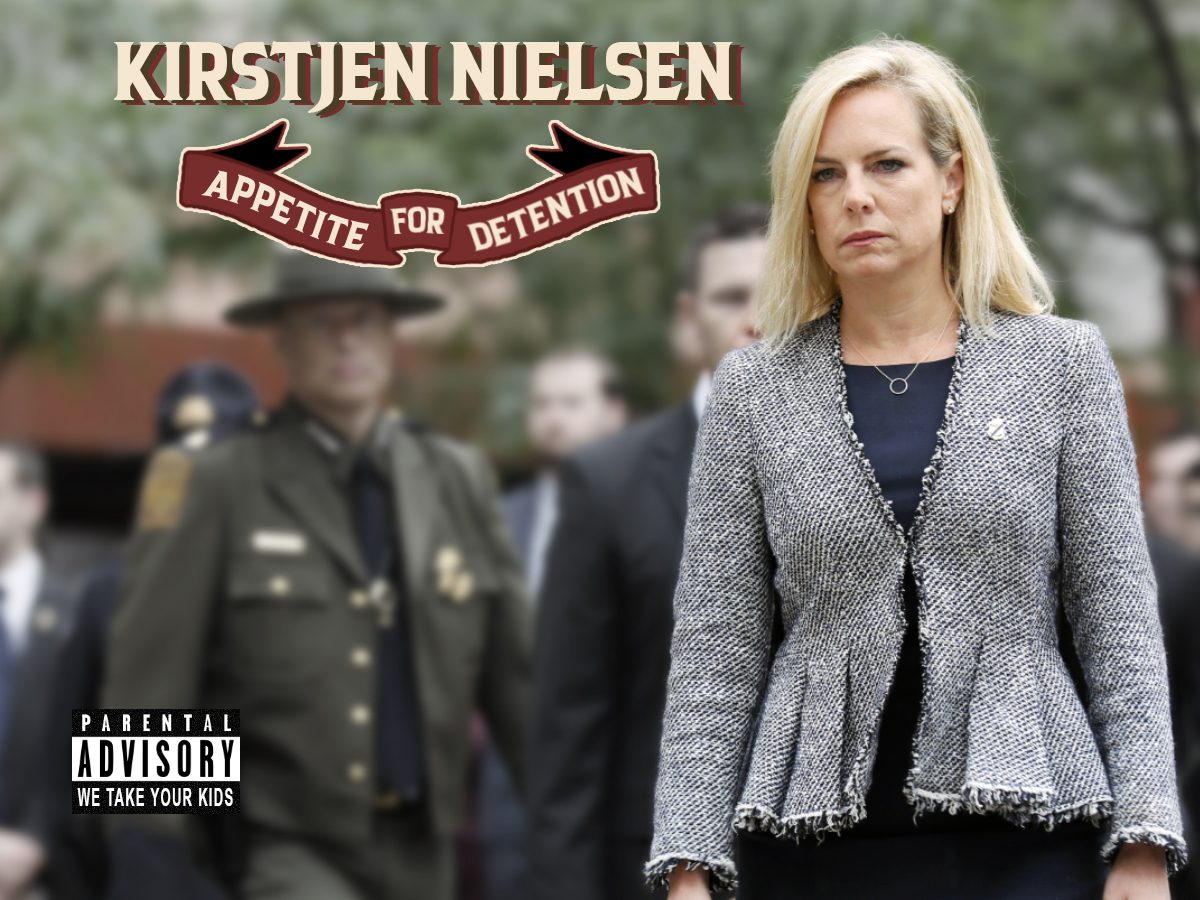 With the news that soon-to-be-former Secretary of Homeland Security Kirstjen Nielsen has been ousted, this seems like the perfect time to pay tribute to her tens of months of service to an administration that apparently viewed her as too kind to immigrants and other living things.
Already, some journalists have observed that Nielsen will forever be associated with the policy of separating families at the border, and the locking of children in cages. But doesn't she deserve to be remembered for that, and so much more?
To that end, here are some of Kirstjen Nielsen's most Kirstjen Nielsen-y moments, so that readers can form their own judgments about her tenure as the face of the Trump administration's Department of Homeland Security.
"Offensive"
At a June 18, 2018 White House press briefing — the day after she categorically denied the existence of the family separation policy on Twitter — Nielsen asserted that "this administration did not create a policy of separating families at the border," and when a reporter asked her if the intent of the policy was to separate children from their parents, Nielsen was indignant.
"I find that offensive. No. Because why would I ever create a policy that purposely does that?"
Although the claim was absurd on its face at the time, the world would later learn that Nielsen personally signed off on a memo that explicitly approved "the separation of parents or legal guardians and minors held in immigration detention so that the parent or legal guardian can be prosecuted" under a "zero tolerance" policy.
From Russia With Love
Despite all the revisionist history going on now, Nielsen wasn't just about lying to cover for Trump's child separation policy. During a July 19, 2018 interview, Nielsen insisted that she hadn't "seen any evidence that the attempts to interfere in our election infrastructure was to favor a particular political party," just days after Russian President Vladimir Putin himself admitted that he had favored Trump in the 2016 presidential election.
Even the four-page William Barr memo summarizing Special Counsel Robert Mueller's report concluded that there were "multiple offers from Russian-affiliated individuals to assist the Trump campaign."
"We Need Wall"
For those who find little to be amused by from Nielsen's tenure, let's not forget her comically Hulk-like insistence that "From Congress, I would ask for wall. We need wall," as deliciously mocked by MSNBC's Morning Joe.
Terrorists at the Southern Border
Nielsen was among the many Trump officials to claim that terrorists are being apprehended at the border, as she did in this interview with Sean Hannity, but Trump's own State Department has placed the number at precisely zero, for two years in a row.
Both Sides of Charlottesville
Following Trump's infamous remark that there were "very fine people on both sides" of the racist demonstrations that led to the white supremacist murder of Heather Heyer, Nielsen appeared to echo those comments. Asked about the threat of white supremacy at the Aspen Security Forum, Nielsen consistently tried to "broaden" the topic to other forms of violence.
And when she was asked specifically about Trump's remarks, her answer included saying that "It's not that one side was right and one side was wrong. Anyone who is advocating violence we need to work to mitigate."
How Many People Died in My Department's Custody? Dunno.
At a hearing in December, Nielsen was asked how many people had died in custody during her tenure as Homeland Security secretary. "I don't have an exact figure for you" was the short answer, delivered with the warmth of a Hoth weather forecast.
White People? What's a White People?
Secretary Nielsen's penchant for covering Trump's rear reached another absurd zenith when she not only claimed not to have heard Trump use the phrase "shithole countries" during a White House meeting (a claim that even Fox News' Chris Wallace found highly suspect), but then told Senator Patrick Leahy (D-VT), under oath, that she was not aware that Norway is a predominantly white country.
We Don't Detain Children While We're Detaining Them
At yet another hearing, on October 10, 2018, Senator Kamala Harris (D-CA) tried to get Nielsen to explain how it is that she could claim DHS doesn't detain children, when an inspector general's report clearly says they did.
"What we do is when we apprehend them at a border patrol station, we process them, and as soon as there is room in an HHS facility, we transfer them," Nielsen said.
"So does the processing involved detention?" Harris asked.
"It's not detention facilities," Nielsen said, and went on to add "We will care for them until bedspace opens at a detention facility at HHS."
Cages Aren't Cages
Which brings us to another brilliant moment, when Nielsen tried to deny the use of cages to detain children at the non-detention facilities that she says she didn't detain children at. During a hearing just a few weeks ago, House Homeland Security Committee Chairman Rep. Bennie Thompson (D-MS) confronted Nielsen about the cages, and she insisted "they're not cages."
"What are they?" Thompson asked.
"They're areas of the border facility that are carved out for the safety and protection of those who remain there while they're being processed," she replied, at which time Thompson scolded her for "misleading" the committee.
Nielsen Gets Separated From Her Dinner
Finally, here's Nielsen at the height of the child separation policy that she said didn't exist, being chased out of a Mexican restaurant in Washington, DC by activists. Maybe she should've tried Norwegian.
This is an opinion piece. The views expressed in this article are those of just the author.