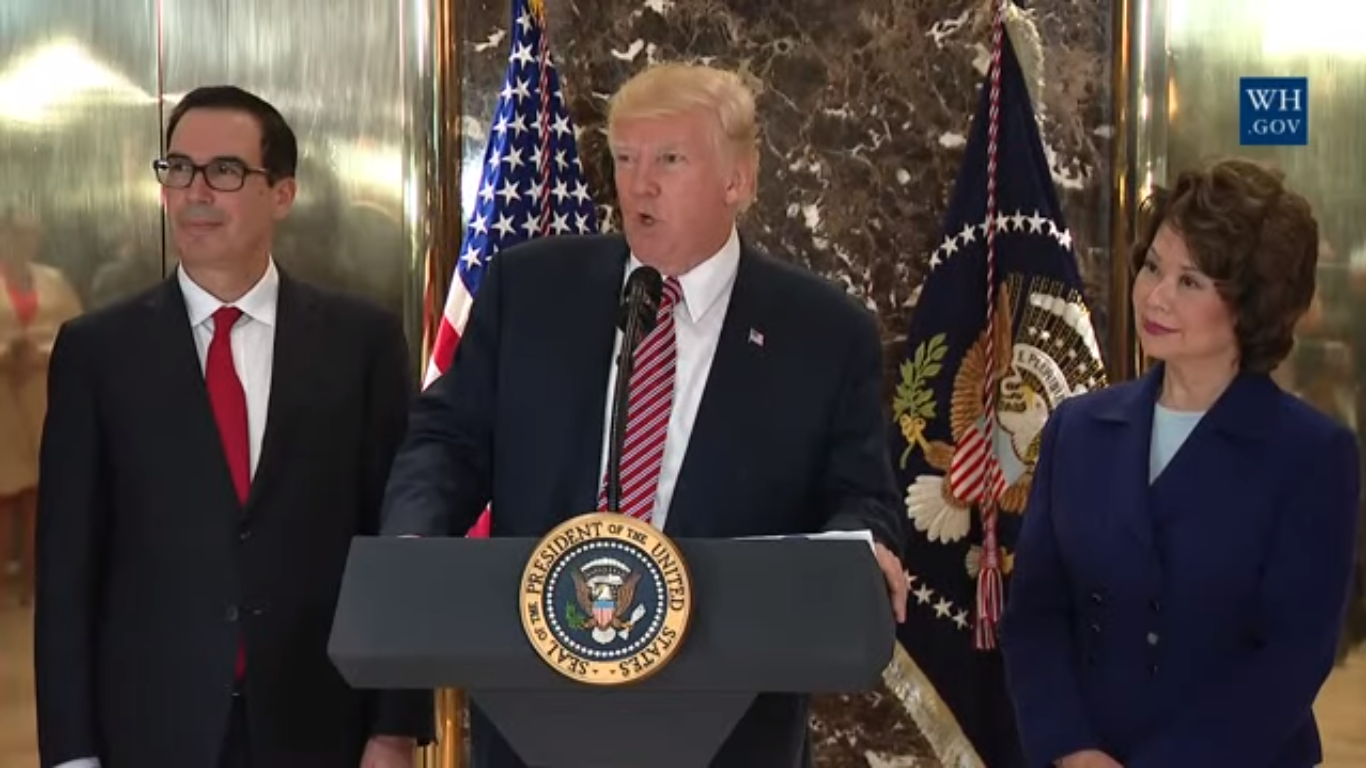 In his stunning press conference on Tuesday, President Donald Trump attempted to draw an equivalence between the heavily-armed, torch bearing white supremacists who descended on Charlottesville to protest the removal of Confederate monuments and the anti-Nazi protestors that confronted them there.
In the course of decrying the anti-Nazi protestors as "alt left," Trump made excuses for those gathered on the right, claiming there were "very fine people on both sides."
It is apparently the president's perception that although there were white supremacists and neo-Nazis in attendance at the demonstration — groups he condemned on Monday — there were also "peaceful" protestors merely concerned with the eradication of Southern heritage.
That narrative — that both sides had bad apples amongst their peaceful protestors — was echoed on Fox News, notably by Outnumbered's Melissa Francis, who was brought to tears in her defense of the good people out in Charlottesville Saturday to peacefully reject the removal of Confederate statues:
Clip: An emotional moment on @OutnumberedFNC with @MelissaAFrancis @HARRISFAULKNER et al pic.twitter.com/LrZnhDVWS3

— johnny dollar (@johnnydollar01) August 16, 2017
While it is indeed true that in many protests-gone-wrong, the peaceful majority is often overwhelmed by a violent minority, this is simply not the case in Charlottesville.
It's hard to verify the makeup of the attendees, but it remains a fact that the protest, dubbed "Unite the Right," was organized by white supremacist Jason Kessler with the help of eight neo-Nazi, fascist, confederate, and national socialist groups.
Those groups showed up in Charlottesville on Friday night bearing torches, shouting Nazi slogans and throwing Nazi salutes. On Saturday, they brandished assault rifles and clashed violently with counter-protestors, until one white supremacist drove his car into a crowd, killing one woman and injuring 19 more.
The rally was explicitly billed as an event for white supremacists. So much so, in fact, that Gavin McInnes — bearded-Vice-hipster turned alt-right YouTube pundit — pulled his "Proud Boys" out of the event before it began.
The Proud Boys are a far-right, pro-West, white nationalist men's organization, but apparently the Unite the Right rally was too extreme, even for them. As McInnes commented on his YouTube show after the terror attack, the Boys were initially slated to attend the rally, until "it started morphing into something much worse."
He argued that while the event was pitched as a protest against the removal against Confederate statues, it was clear even before it started that was "not what's happening on the ground":
Vice News Tonight provided perhaps the most fascinating look into what went down at the Charlottesville rally — and in the 22-minute documentary, it's hard to spot the "fine people" Trump is referring to:
[image via screengrab]
—
Follow Aidan McLaughlin (@aidnmclaughlin) on Twitter
This is an opinion piece. The views expressed in this article are those of just the author.
Aidan McLaughlin - Editor in Chief