Watch Tom Morello's Badass Speech Inducting KISS into Rock and Roll Hall of Fame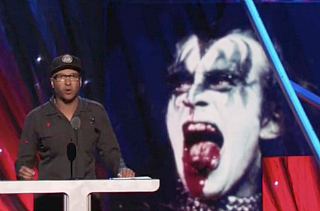 Earlier this year, despite intra-band drama and repeated voter snubs, hard rock icons KISS were inducted into the Rock and Roll Hall of Fame. HBO aired the induction ceremony on Friday evening and boy was it an eye-opener.
I was never a KISS fan. While recognizing their contribution to hard rock and glam metal, the only times I've willingly listened to them was when their songs came on at a bar.

But Tom Morello's absolutely electrifying induction speech convinced me to give KISS a level of respect I hadn't previously thought was due.
Clearly giddy for the opportunity to induct his icons, Morello brought the Barclays Center audience to its feet multiple times with rallying cries for how KISS was "the band of the people," "relentlessly persecuted" by critics and mocked by the "self-appointed arbiters of taste in middle schools and high schools across America." Watch that below:
Morello made the case that KISS had three key components to their enormous commercial success: Impact, influence, and awesomeness. For "impact," Morello described how the band made kids around the country want to pick up a guitar and shred. For "influence," the Rage Against the Machine guitarist rattled off an impressive list of rock, metal, and country artists (including his own band) who've cited KISS as having inspired them.
And when it came to "awesomeness," Morello delivered an awe-inspiring rant that felt like a sermon in the Megachurch of Rock 'n' Roll, drawing more and more whoops and hollers as it went on, crescendoing to a climax of applause and shouts:
What if you had never seen or heard KISS before? What if you had never heard a note of their music, never viewed a YouTube clip, never seen a reality show featuring any of the members? And what if you wandered into a divey club in your hometown and saw KISS, in all their glory, thrashing the place to the ground? One guy belching fire and spraying blood past his gargantuan tongue; a drum riser bursting through the roof; a guitar player so incredible his axe billowed smoke and shot rockets; a frontman flying back and forth across the joint like a superhero Tarzan. All of them in frightening, horror movie, comic book, superstar, sexifying Kabuki makeup. All of them in black and silver warrior bondage gear and seven-inch platform heels. The place blowing up with explosions, screeching with sirens, raining with confetti. All to the pounding soundtrack of bare-knuckle, badass, heavy-duty, liberating rock and roll.

What would you say if you saw that? You'd say, "That band's fucking awesome and deserves to be in the Rock and Roll Hall of Fame!" That's what you'd say!
Can't argue with that.
Watch that bit below, via HBO:
If you want to watch the full ceremony (including Morello's full speech), here are the HBO listings for future airings: June 4 (9:00 p.m.), 7 (4:45 p.m.), 10 (2:30 p.m., 4:15 a.m.), 16 (5:15 p.m., 2:00 a.m.), 22 (8:45 a.m.), 27 (1:45 p.m.) and 30 (8:15 a.m.)
And on HBO2: June 3 (11:00 p.m.), 6 (9:00 p.m.), 8 (2:45 p.m.), 11 (8:00 a.m., 9:00 p.m.), 19 (4:45 p.m.), 24 (11:45 a.m.) and 29 (8:45 a.m.)
— —
>> Follow Andrew Kirell (@AndrewKirell) on Twitter
Have a tip we should know? tips@mediaite.com