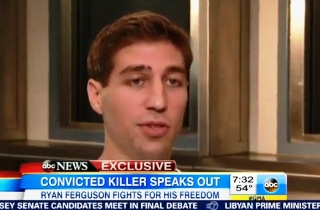 On Thursday's Good Morning America, Mediaite founder and ABC legal anchor Dan Abrams revealed his interview with Ryan Ferguson, the man sentenced to 40 years in prison for a 2001 murder despite key witnesses now recanting their original stories.
Ferguson was convicted in 2004 for the murder of Missouri-based sportswriter Kent Heitholt, and his alleged accomplice Charles Erickson took a 25-year plea deal in exchange for testimony against his friend. Several years after the conviction, Erickson claimed he fabricated his story, and apologized to Ferguson for putting him through this entire ordeal. But that didn't get him out.
Another key witness, who initially fingered Ferguson as having been at the scene of the crime, has also recanted his story. This, plus the fact that no evidence tied Ferguson or Erickson to the scene, has led many to believe that the former was wrongfully convicted.
One judge already denied Ferguson a new trial (which would in effect mean his acquittal since there is no evidence to move forward with) , stating that Erickson's new account is not reliable enough to negate the previous court decision.
The story has garnered lots of media buzz over the years, from this Nightline special to segments on 60 Minutes and Dateline, all questioning the conviction over the years. As the momentum grows, documentary filmmaker Andrew Jenks has recently undertaken a project involving the story.
As for whether Ferguson eventually overturns his conviction, we'll just have to wait and see. But as Abrams told GMA, the evidence (and lack thereof) seems to suggest he's an innocent man who ought to be released
Watch the GMA segment below, via ABC:
We will have the full Nightline interview tonight when it airs. Check back later.
Have a tip we should know? tips@mediaite.com