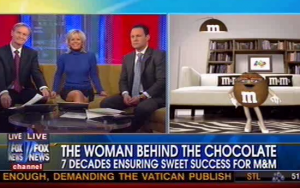 Tuesday morning, Fox & Friends welcomed Ms. Brown — a computer-generated, glasses-wearing candy — on the show as a guest, to talk about the history of M&M's and basically plug the candy in what amounted to a three-minute commercial. A terrible, awkward three-minute commercial.
This might not have been Fox News' fault — in theory, talking to an M&M could have been a fun idea. But things began going off the rails early, as Ms. Brown's answers were just a little too cute for TV, which made her incredibly annoying. For people who, for whatever reason, don't especially like co-host Brian Kilmeade, his unamused facial expressions throughout the interview will likely win you over. He was mercifully rescued from follow-up chatter on the segment by Misty May-Treanor, who "crashed" the set to get him outdoors for a volleyball segment.
RELATED: Watch Suzanne Malveaux Ask An Awkward Tim Tebow About His Love Life
Host Steve Doocy, however, seemed to be fully invested in the interview. He mentioned that Eddie Van Halen used to stipulate, in his contract riders, that there should be no brown M&M's in the dressing room.
"That's got to make a candy feel bad," Doocy said, feigning a frown.
"Well, he didn't know what he was missing," Ms. Brown replied, "and I'm the ruler of all. So…it's his loss."
"Take that, Eddie," Doocy replied.
Gretchen Carlson then followed up by asking Ms. Brown to describe the personalities of the other M&M's. We learned that Green is attractive, Blue is up on current events, Yellow is naive, Orange is — ah, you know, we're just going to stop there.
"We've been doing this show for 15 years," Doocy told Ms. Brown. "I believe you're the first talking candy." If there is any justice in the world, she will also be the last.
Watch the clip of the interview below, courtesy of Fox News:
Have a tip we should know? tips@mediaite.com