Yes, Andy Samberg's Harvard Graduation Speech Today Included A Nic Cage Impression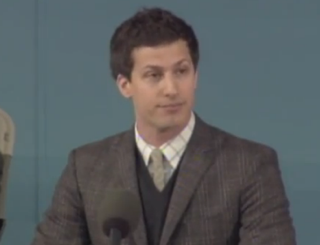 Today was Harvard College's Class Day, the day before graduation proper dedicated to sending off the class of 2012 with some lighthearted (but from the heart) advice and a prayer or two at Memorial Church. This year's graduates had the privilege of being sent off by now-SNL alum Andy Samberg, who tried to give graduation advice but ended up just imitating Nicolas Cage and singing a Backstreet Boys song.

Samberg, who walked out to Adele's "Someone Like You" for some reason, began by thanking the audience, admitting that he was "as honored to be here as I am unqualified." After a "misunderstanding" in which he faked believing he was there to receive an honorary degree, Samberg tried to make a poignant declaration of today being special for the graduates, which ended up with him just declaring dramatically that "today is… a day." He then announced that all majors ending in "studies" and most relating to art were useless, and gave some advice: never wear your Harvard shirts in public, and be prepared to have your school become your workplace nickname.
Samberg also delivered three of his best impressions– Mark Zuckerberg, Mark Wahlberg, and Nicolas Cage— and went on a tirade against Yale despite admittedly not knowing anything about it. He concluded noting that "I'm only truly qualified to give you three simple tips on how to succeed in life," beginning with "cut a hole in a box."
On a personal note, having Samberg– a defining figure for our generation if only by virtue of starring in "Lazy Sunday," the first YouTube video I and many my age ever saw (dare I say in our dorm rooms?)– speak at their graduation is an unbelievable privilege, one that I, three years removed from my own Harvard Class Day, am immensely jealous of (no offense meant to Matt Lauer, who was by any measure a fantastic Class Day speaker).
Samberg's Class Day speech below:

Have a tip we should know? [email protected]