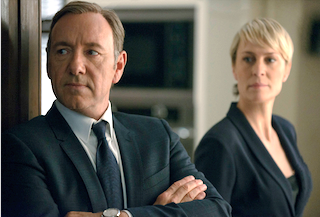 Last month, Netflix agreed to pay Comcast for faster access to the cable company's internet subscribers, allowing users to stream content like the Netflix original series House of Cards at more reliable speeds. How is Comcast repaying them? By licensing the political drama series directly from Sony Pictures so that anyone with Xfinity On Demand cable can watch the show without paying Netflix anything.
So far, Comcast subscribers will only be able to watch season one of House of Cards on demand, but they also have plans to add the first season of Netflix's Orange Is the New Black on May 13th, through a separate deal with Lionsgate. Season two of House of Cards, which went up on Netflix in its entirety on February 14th can't be far behind.
While Netflix will still holds the online streaming rights for House of Cards, Sony is in charge of "home video" distribution, which in 2014 means programs like this one with Comcast. The show will be available in the Xfinity Store as soon as Tuesday, March 11th for purchase and can be viewed on traditional television, online or on mobile through the Xfinity app in iOS or Android devices.
UPDATE (2:50pm ET): According to a representative from Comcast, House of Cards season one will not be available in the Xfinity Store for another approximately 30 days. However, the Oscar-nominated film American Hustle, which Comcast also acquired in its deal with Sony, will be available for purchase on demand starting tomorrow, Tuesday, March 11th.
[photo via Netflix]
— —
>> Follow Matt Wilstein (@TheMattWilstein) on Twitter
Have a tip we should know? tips@mediaite.com