Bill O'Reilly And Barack Obama Join Forces To Raise Money For Military Families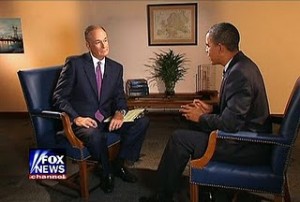 In news that makes you go "Awwww," President Barack Obama and conservative TV host Bill O'Reilly have joined together to raise nearly $750,000 to help military families. Kittens and rainbows and rainbow kittens all around!
After conducing his much talked-about Super Bowl Sunday interview with the President, O'Reilly asked Obama if he would sign his research notes so that they could be used to raise money for a good cause. Obama agreed, suggesting that the money go to Fisher House, a non-profit organization that builds homes where families of patients in U.S. military medical centers can stay while their relatives undergo treatment. Here's more info on Fisher House, from its site:
Fisher Houses are given to the U. S. Government as gifts. Military service secretaries and the Secretary of Veterans Affairs are responsible for the operation and maintenance of the homes. The Fisher House Foundation, Inc., a not-for-profit organization under section 501(c)(3) of the IRS code, builds new houses, and assists in the coordination of private support and encourages public support for the homes.
People have the opportunity to donate $500 to the organization in exchange for a copy of the signed notes, as well as a photograph personally signed by O'Reilly.
O'Reilly hopes to ultimately bring in at least one million dollars for Fisher House. And, in case you were wondering about O'Reilly and Obama's relationship, the Fox News host says he respects the Commander in Chief, regardless of personal politics: "I want to have a respectful relationship with the President of the United States, no matter who it is."
h/t Reuters
Have a tip we should know? tips@mediaite.com