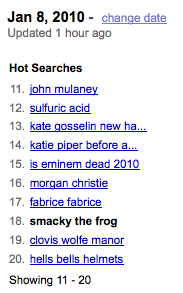 It's Comedy Night on Google Hot Trends! That's where I double-taked to see John Mulaney — a very funny comedian and SNL writer but not yet a household name. I knew he had a comedy special tonight on TBS thanks to the Twitter feed of "Comic's Comic" blogger Sean McCarthy ; I also knew that John Oliver was on Comedy Central because I watched a bit, and vastly enjoye the tale of 11-year old John running a foot race with a key part of his anatomy exposed (which sounded like it affected his aerodynamics). But then as I checked it out, I saw that Mitch Hedberg was trending, too — high at #2 — that Greer Barnes was #1, and that Fabrice Fabrice (a character of comedian Nick Kroll) and Smacky the Frog, a character of Hedberg's, were all trending in the top 20. I know they're all funny and all, but — huh?
I IM'd the intrepid Mr. McCarthy and he explained all: Greer Barnes was on Comedy Central at 10, an old Mitch Hedberg special at 10:30 (the much-loved Hedberg died in 2005), "John Oliver and Friends" on at 11, opposite Mulaney on TBS. Fabrice Fabrice was one of the "Friends" on the Oliver special and Smacky is a Hedberg joke. "People must have stayed in because it's so cold everywhere and watched comedy on TV!" said McCarthy (whose earlier tweet agonized over having to choose between Oliver and Mullaney). Based on Google Hot Trends, it sounds like he's right; related searches included Eugene Mirman (who came after Oliver, along with helpful instructions about how to repel a bear attack) as well as for Greg Fitzsimmons.And also for Morgan Christie, who is apparently dating Jon Gosselin, but there is humor in that, surely.
Anyhow — far be it from us to just go through Google Trends to make a post! If you're still searching, here's some tidbits to enjoy.
Update: Now Aziz Ansari is trending.
Greer Barnes


Fabrice Fabrice
"No more carrot sticks for you, Robert Guillame!"


John Mulaney
Mitch Hedberg
Have a tip we should know? tips@mediaite.com