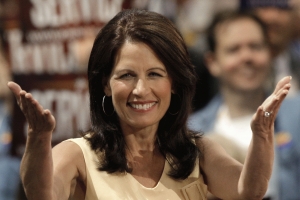 Although we (the people) are by now aware that GOP presidential hopeful Michele Bachmann has had a hand in raising 23 foster kids, she doesn't often speak about them, nor has she formally introduced them into the media spotlight. That's why it was intriguing (and maybe even somewhat confusing) to learn that Bachmann recently tried to procure autographs for her kids from the cast of Glee, possibly the gayest family-oriented show on network television today. This is noteworthy because Bachmann is quite open about her anti-gay stance, even to the detriment of her relationship to her gay stepsister and other family members.
According to New York magazine's Daily Intel column, Bachmann tried to find Glee actor Chris Colfer, who is gay and also plays a character whose own homosexuality is a major plot point, at a recent event because her kids just love him to pieces:
At the event last night, at Jazz at Lincoln Center, Bachmann and her husband posed with Glee star Darren Criss and e-mailed the pictures to their children. "We looked for Chris Colfer," she said, but they didn't find him. "We don't watch TV, generally speaking. But the kids were thrilled. What kids don't watch Glee?"
Color us curious. We wonder whether this prompts any sort of discussion about homosexuality during Glee-watching night in the Bachmann household. Also, important: Does Michele sing along to "Don't Stop Believing"? I vote yes.
h/t NY Mag, with special thanks to reader Emma to bringing this story to my attention.
Have a tip we should know? tips@mediaite.com