The NYT Election Needle Is Back, and It's Giving Twitter Serious Flashbacks: 'God No Anything But the Needle'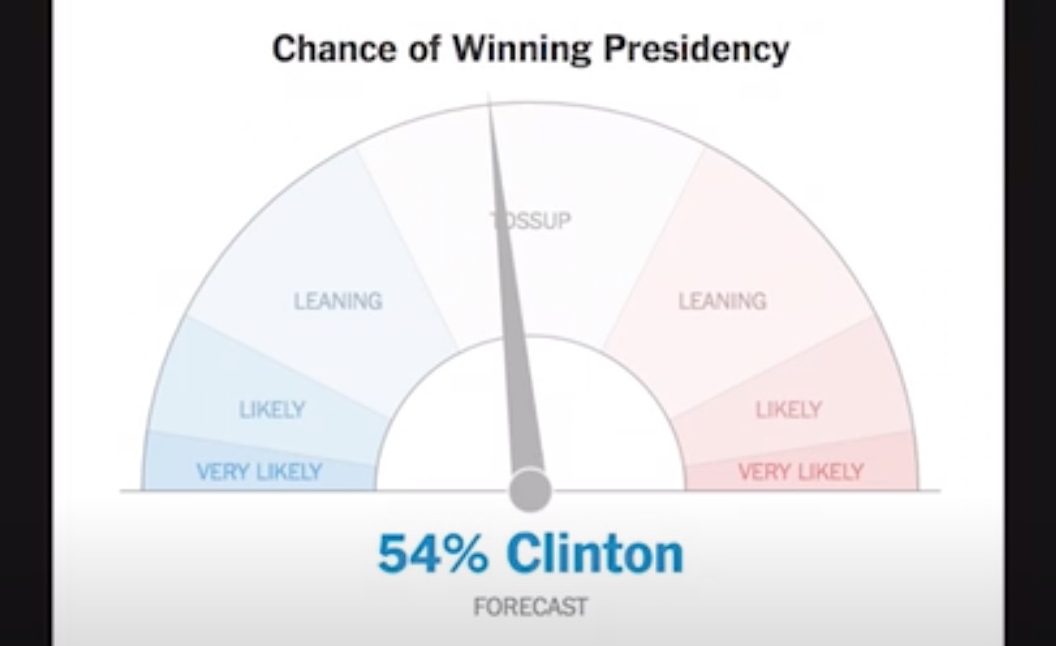 For the sixth American presidential or midterm election, The New York Times has brought back its election needle for Tuesday night. And the mere sight of it is causing some to freak out.
The needle will move, throughout the night, to depict the most current odds for each party winning the House and the Senate.
But this tool is not without its detractors. Many are spooked by the volatility — the constant swings. Progressives, in particular, are wont to recall the needle's upbeat forecast for Hillary Clinton on election night 2016. That forecast, of course, proved to be premature.
In aggregate, most observers seem to find the Time election needle quite stressful. Here's a sampling of the reaction:
The deeper you stick it in your vein

The deeper the thoughts, there's no more painhttps://t.co/26aitGguWU

— Matthew Yglesias (@mattyglesias) November 6, 2018
The Upshot needle is back pic.twitter.com/aL255tNzqp

— Jonathan Chait (@jonathanchait) November 6, 2018
I fear the return of the election needle.

— Kyle Griffin (@kylegriffin1) November 6, 2018
And then we waited. I went to a party filled with actors. I made conversation but mostly I looked at the horrible New York Times needle of death which was telling me that I was about to have a female president until the moment it wasn't.

— Molly Jong-Fast (@MollyJongFast) November 6, 2018
God no anything but the needle https://t.co/VOpWeDs2DF

— Laura Bassett (@LEBassett) November 6, 2018
Abolish the election needle.

— Summer Brennan (@summerbrennan) November 6, 2018
wow the new election needle is grim af pic.twitter.com/WQ23TZHoqw

— Kilgore Trout (@KT_So_It_Goes) November 6, 2018
Say no to The Needle. #electionnightthought

— Jonathan Capehart (@CapehartJ) November 6, 2018
The only thing that can make these classic horror-movie jump scares even scarier: The NYT needle.https://t.co/RiKOXOYADa pic.twitter.com/jPmHyEDnRX

— Forrest Wickman (@ForrestW) November 6, 2018
oh no, the needle, it's a triple needle https://t.co/2YLfH1HjW1 pic.twitter.com/eY8egBX14m

— Tom Randall (@tsrandall) November 6, 2018
This misunderstands what the needle does to people's anxiety level. https://t.co/GPxoRuKOFO pic.twitter.com/v5efyxuu7Y

— Austin Frakt (@afrakt) November 6, 2018
This needle is giving me stressful flashbacks pic.twitter.com/33djtkR5Bm

— Kate Beckman (@Kate_Beckman) November 6, 2018
Remember today's mantra: Clear eyes, full hearts, fuck 538 & the NYT needle.

— Amanda Litman (@amandalitman) November 6, 2018
Conscious of the stress their needle may cause, the Times actually created a page it's calling The Calm Place — wherein readers can listen to nature sounds, view landscapes, and actually pet a virtual dog.
[featured image via screengrab]
Have a tip we should know? tips@mediaite.com
Joe DePaolo - Senior Editor