Trump Wanted A Van Gogh From The Guggenheim, Museum Said No and Offered Him A Golden Toilet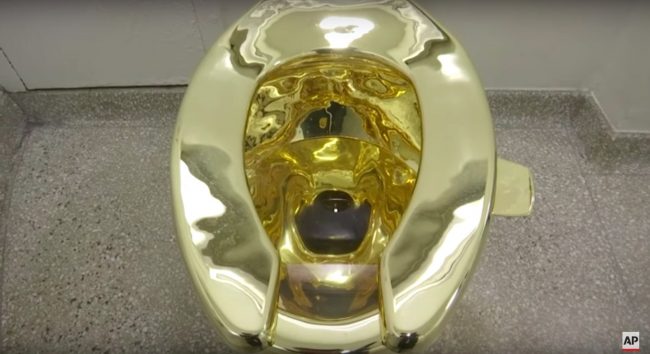 Looks like they call him Donald John Trump for a reason.
According to The Washington Post, Nancy Spector — the Guggenheim Museum's chief curator — offered the Trumps an 18-karat, fully-functional golden toilet to install in the White House.
The White House wrote to the museum in September, asking to borrow Vincent Van Gogh's stunning piece, "Landscape With Snow," for the Trumps' private quarters. It is not uncommon for museums to loan priceless works of art to sitting presidents; the Obamas borrowed works by the likes of Mark Rothko and Jasper Johns.
So Spector's alternative option – contemporary artist Maurizio Cattelan's "America" – was, in comparison, a bit of a shitty choice.
"We are sorry not to be able to accommodate your original request," the curator said, "but remain hopeful that this special offer may be of interest."
"Whatever you eat, a two-hundred-dollar lunch or a two-dollar hot dog, the results are the same, toilet-wise," the artist has said of the piece, which was exhibited in the Guggenheim for over a year and was available for all to use.
Spector, who is vocally anti-Trump, included a photo of the toilet with her email "for your reference."
[image via screengrab]
Have a tip we should know? [email protected]