Majority of Hardcore NFL Fans Disapprove of Roger Goodell's Handling of Anthem Protests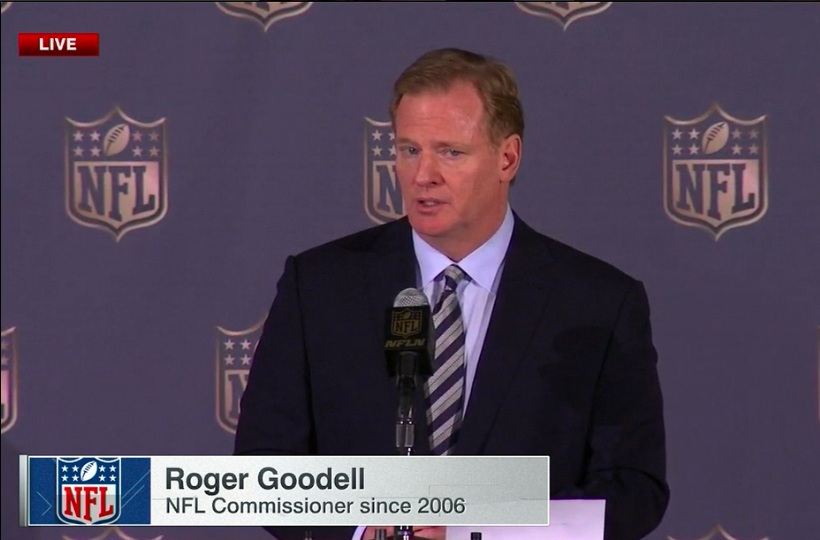 Hardcore NFL fans strongly disapprove of how embattled NFL Commissioner Roger Goodell has handled his job and a gigantic 77 percent of fans think players should stand for the national anthem.
As Goodell attempts to secure a new contract reportedly worth close to $50 million per year with lifetime health insurance for his family as well as use of a private jet for life, a new poll conducted by Harris shows the American people overwhelmingly disapprove of how he has handled the high profile challenges facing the league.
According to data from The Harris Poll, 60 percent said they disapprove of Goodell's handling of the matter. Fifty-five percent said Goodell has handled the issue in a way that has made both sides unhappy.

A strong majority, 77 percent, said the players should stand for the anthem. Fifty-nine percent said there should be a rule requiring the players to do so.
The only glimmer of good not awful news for Goodell is that the commish has a 50% "approval rating" but that's only a positive indicator on the surface. 56 percent of self-described hardcore fans say they disapprove of the job Goodell is doing, according to The Hill, and that in a word, is devastating.
"Hardcore fans" in this context could also be described less succinctly as "the people who would end up actually paying for Goodell's $50 million per year and health insurance/private jet for life." You know, the people who go to NFL games and buy the concessions and buy the swag and watch the games and subscribe to Sunday Pass and are… you know… HARDCORE FANS. And Hardcore fans hate Roger Goodell.
"It is nearly unheard of to have a commissioner of a national sports league be this divisive," Harris Poll Chairman Mark Penn told The Hill. "Asking for $50 million dollars at a time when his approval is less than 50 percent among self-identified hardcore fans is pretty striking."
Striking is one word for it. Another is arrogant… how about tone-deaf?
Even more importantly, as it pertains to the larger issues facing the NFL, is the fan reaction to the anthem kneeling controversy that has come to symbolize Goodell's ineptitude in understanding the core NFL fan who loves his football, loves his flag and who dares to not think his country is inherently racist.
60 percent of respondents said they disapprove of Goodell's handling of the kneeling protests while 55 percent said the commissioner has angered both sides of the protest issue with his ineptitude.
Meanwhile, 77 percent (SEVENTY SEVEN!) believe players should stand for the anthem. Period. End of story.
Goodell's mismanagement of controversial topics like the anthem protests have been typical of a Manhattan millionaire peering at the American people through a penthouse office window surrounded by advisers who think Bill DeBlasio is a hell of a mayor. He has failed to understand how his decisions play in Pittsburgh or Dallas or Kansas City or even the greater Washington DC area. Instead, he has made decisions that are more in line with San Francisco and Los Angeles. You know, the cities with half-empty football stadiums every week.
The sooner the league rids itself of Goodell and his outrageous contract demands and move the NFL headquarters to the middle of America, where their fans actually live, the sooner they'll help repair the damage done by New York-native, Goodell. Perhaps they could move to Canton, Ohio, the home of the Pro Football Hall of Fame? A change of scene for the league executives would offer a desperately needed change of perspective.
It's time for the NFL to get back to the country that loves its product.
It's time for the NFL to get back to the people who love its product.
It's time for the NFL to get back to football.
We're ready.
This is an opinion piece. The views expressed in this article are those of just the author.