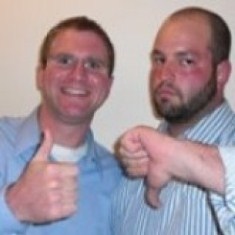 Who: Danny Strong, Joe Weisberg, Beau Willimon, moderated by Stefan Forbes
What: "The Americams, House of Cards, and Game Change: D.C.'s Drama and Deception on TV"
Where: 92Y Tribeca
When: June 3, 2013
Thumbs: Up
Running a TV show or producing a TV movie sure is a lot of work. Some of the panelists said they call upon real experience in politics or with the government to help their stories along, while others rely more on research an the assistance of talented writing staffs to help get them up to speed. In any case, between the trio, Washington, D.C., was well represented in a number of ways, showing how diverse a city it truly is.
Beau Willimon said he tries to tune out the noise from the nation's capital and to find the human side to the story. The others agreed saying that at its core all of the narratives is close relationships and the struggles that people endure. What was clear is that they all think about how real people would face real circumstances, even if the stakes are a little bit higher than for the typical person.
For Danny Strong, that was difficult considering that the story of Recount swung on Florida election law, a topic that even Floridians would agree is boring. He said it was hard to depict nearly every scene he adapted from the popular book because everything was just so dry. Joe Weisberg added that for his show, The Americans, he finds the marriage of his main two characters to be what drives the momentum, not the "spy stuff."
Because so much of their material comes from real-life events, all of them think about how much leniency they have with the truth. Strong said that you expect blowback no matter what you do, and you just have to stick to what you deem to be true. Willimon called them "different truths" serving separate purposes. When these three men were allowed to make connections like this one, the conversation flowed. It was only when the moderator cut them off and tried to move onto the next subject that things stalled. It flustered the panelists and frustrated the audience.
Strong revealed that originally Game Change was supposed to be about Hillary vs. Obama, but it came to focus entirely on Palin's rise because one story had already been told through the media and the other had not. It was the untold story, with some dramatic updates, that won out.
What They Said
"FX is a ddark network and a lot of dark things happen there."
– Joe Weisberg explains why The Americans is a good fit his its network
"I don't think House of Cards is about politics at all…it's about power."
– Beau Willimon says he doesn't want to recruit wonks to be his writers, or his viewers
"The source of antagonism was not Sarah Palin, but what she didn't know."
– Danny Strong thinks that Palin's advisers were put into a tough spot
"It's hard not to have confusion no matter what you do."
– Joe Weisberg worries that you can never achieve even realism to appease viewers

"You can't fudge or edit your way out of a direct address."
– Beau Willimon breaks the fourth wall to help with backstory, but it poses problems for the showrunner
What We Thought
Moderator Stefan Forbes watched all of the shows and movies discussed ahead of the panel, but he didn't do enough to prepare to host this event. The panelists, thankfully, bailed him out time and again by correcting his factual errors and giving him the right ideas to discuss. Forbes tried to segment the conversation by person, rather than to bring them all together. It undercut the point of the event and created unnecessary tension.
James Baker enjoyed Game Change so much that he hosted a premiere party when the movie came out. Now, that's an endorsement.
PANEL RULES
Some audience behavior seems to repeat itself panel after panel. We'll be updating a running list of "PANEL RULES!" that will help ensure that you are not the dweeb of the Panel Nerds.
Panel Nerds don't like…Side Throwers
Even if you're a big fan of a panelist and have read all of his work, please don't ask him to discuss plays that haven't been introduced by the panel up to that point. Not only doesn't the audience know or care about it at that time, the writer knows he's not there to cover that text. Willimon kept his answer brief, but it could have been avoided entirely.
Have a tip we should know? tips@mediaite.com