Fox Host Reportedly Pushed Trump to Pardon Accused War Criminals, Failed to Disclose His Role When Praising On Air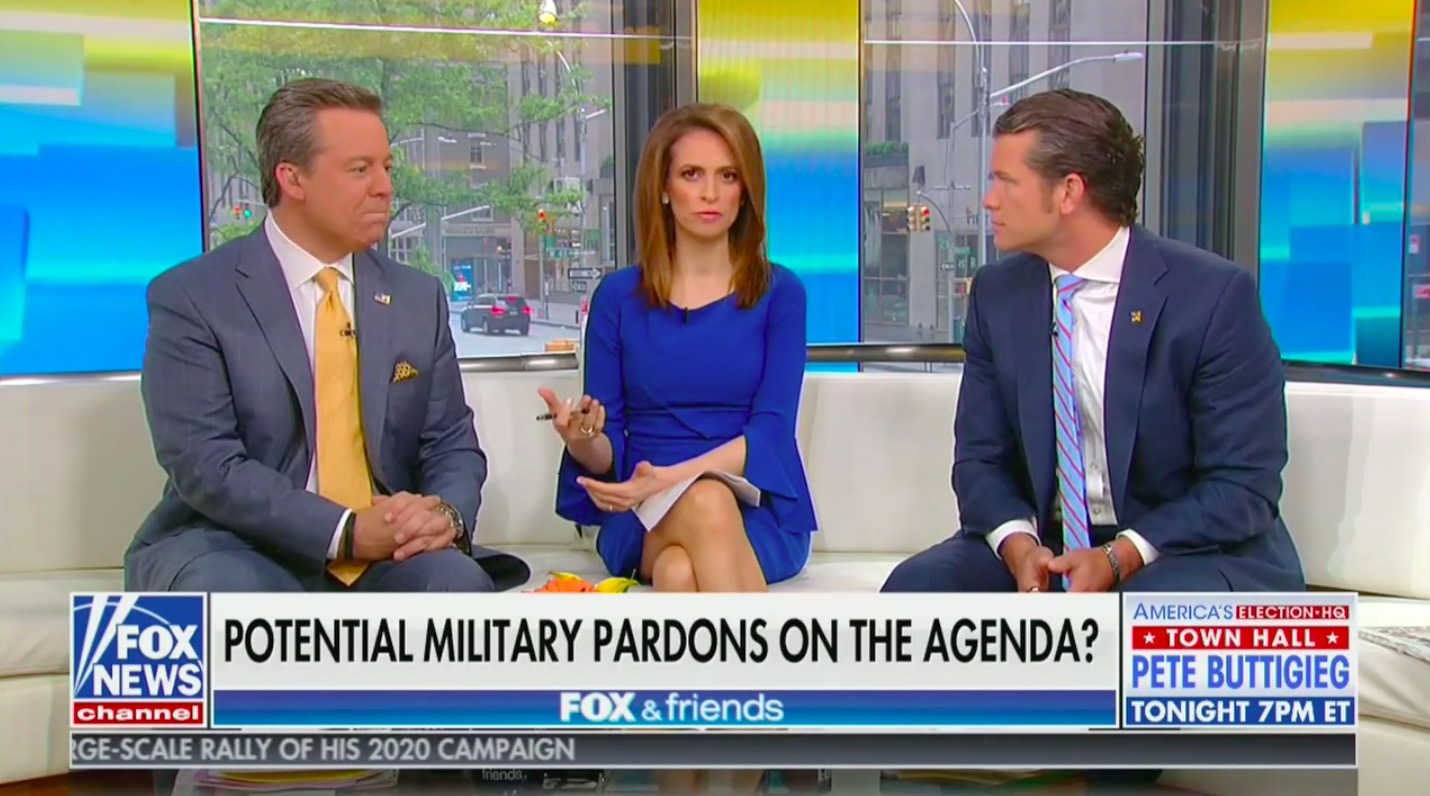 Fox and Friends co-host Pete Hegseth has been secretly advising President Donald Trump to pardon several accused war criminals and has failed to disclose his behind-the-scenes role when praising news of the potential pardons on air, according to a new story from The Daily Beast.
Hegseth's failure to reveal to the Fox News audience that he had a conflict of interest when positively reporting on a move that he himself had privately lobbied Trump to make would be a clear violation of journalistic ethics. However, neither the White House nor Fox News responded to questions from The Daily Beast about Hegseth's role in lobbying Trump or his decision not to disclose that relationship on air.
The Fox News contributor has been a member of Trump's inner circle for a number of years, acting as one of the president's informal advisers on military issues. But according to three sources in the The Daily Beast report, Hegseth has undertaken a months-long campaign for clemency for three military members facing war crimes charges.
"Since as early as January, Hegseth has repeatedly pressed the president to support the accused and convicted servicemen," The Daily Beast reports. "Among those Hegseth, himself an Iraq War veteran and formerly the head of the conservative group Concerned Veterans for America, has advocated for include Special Operations Chief Edward Gallagher, a Navy SEAL platoon leader set to stand trial on May 28 for allegedly shooting civilians, including a school-age girl, and knifing to death a captured ISIS fighter receiving medical treatment in Iraq in 2017."
After story in the New York Times last week reported that Trump was taking steps to issue clemency to these there individuals on Memorial Day, Hegseth took the opportunity over the weekend to cheer the potential pardons on Fox and Friends as a smart move by Trump. "To the people in middle America, who respect the troops and the tough calls they make, they're going to love this," Hegseth said. "These are the good guys. These are the war fighters. And making a move like this by Memorial Day would be — I would be — wow, amazing." Hegseth's comments were just the latest in a series of on-air entreaties he has made about his issue over the past few months, The Daily Beast notes.
Hegseth's position, it should be noted, is not shared by many in the veteran community. Several prominent veterans, including two current Congressman from both parties, have now publicly come out against the prospect of Trump's pre-emptive pardons.
After the Daily Beast article dropped, Hegseth essentially confirmed it with a message on Twitter:
#FreeEddie #FreeMatt #FreeClint ??https://t.co/cG6iCLBlkr

— Pete Hegseth (@PeteHegseth) May 21, 2019
Screengrab via Fox News.
Have a tip we should know? tips@mediaite.com