Pope Francis Decries Fake News: Disinformation Caused Adam and Eve's First Sin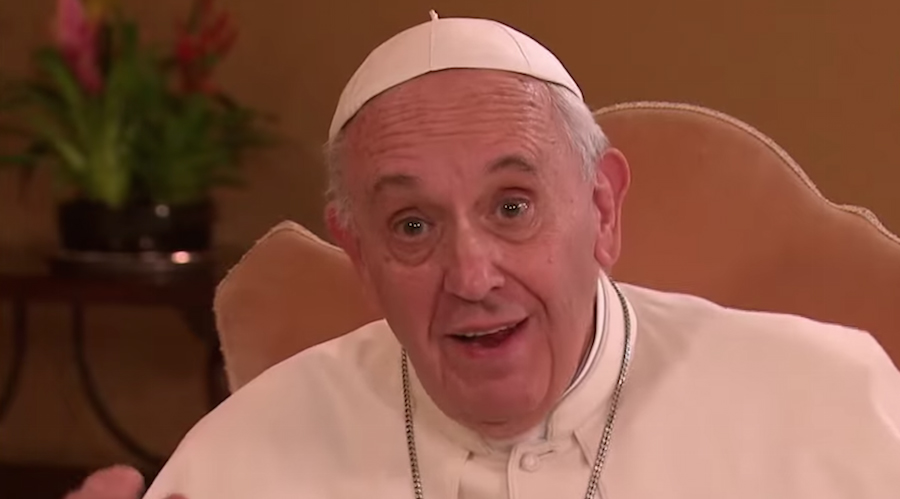 Pope Francis delivered a message earlier today that seemed to throw some shade at President Donald Trump's propensity for, you know, bending facts to suit his whims.
The Pope's remarks came as a statement delivered for World Communications Day 2018, an annual Catholic media conference. The Holy Father framed his statement around the biblical verse "The truth will set you free," before delving into an explanation of fake news and disinformation, including how to spot it.
Pope Francis said misleading journalism, such as the kind that has plagued social networks in recent years, is "a sign of intolerant and hypersensitive attitudes, and leads only to the spread of arrogance and hatred."
"When we yield to our own pride and selfishness, we can also distort the way we use our ability to communicate," the statement remarked, describing fake news as "false information based on non-existent or distorted data meant to deceive and manipulate the reader."
The Pope went on to note that fake news dates all the way back to Adam and Eve, when that dastardly serpent whispered untruths about eating the forbidden fruit.
"This was the strategy employed by the 'crafty serpent' in the Book of Genesis, who, at the dawn of humanity, created the first fake news which began the tragic history of human sin," he remarked. "The strategy of this skilled 'Father of Lies' (Jn 8:44) is precisely mimicry, that sly and dangerous form of seduction that worms its way into the heart with false and alluring arguments."
The Holy Father also suggested that fake news is so vicious because it is rooted in deep-seated human emotions, including greed and fear.
"Fake news often goes viral, spreading so fast that it is hard to stop, not because of the sense of sharing that inspires the social media, but because it appeals to the insatiable greed so easily aroused in human beings," he observed. "The economic and manipulative aims that feed disinformation are rooted in a thirst for power, a desire to possess and enjoy, which ultimately makes us victims of something much more tragic: the deceptive power of evil that moves from one lie to another in order to rob us of our interior freedom."
Finally, he described real journalism as "not just a job; it is a mission."
The Pope and Trump have never quite seen eye to eye. During the 2016 presidential campaign, Pope Francis delivered remarks saying we should "build bridges" and not "create walls," going as far as to suggest that Trump "is not Christian."
[image via screenshot]
—
Follow Lawrence Bonk (@sidescrollers) on Twitter
Have a tip we should know? tips@mediaite.com