Ben Carson Wishes He'd Endorsed Someone Else, Says Trump Offered Him Admin Post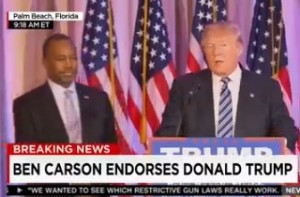 Retired neurosurgeon and former stab-happy street fighter Ben Carson truly is the gift that keeps on giving. After falling tragically silent for a spell after his presidential campaign ended, Carson reemerged last week to offer his endorsement to the candidacy of Donald Trump because God told him to. Now, it seems Carson isn't necessarily all that pleased with the good Lord's will.
On Monday, he told Newsmax's Steve Malzberg that (and I'm not kidding) he really wishes things had worked out differently, and he'd been able to endorse a different candidate. Malzberg asked Carson how he could endorse Trump after all the nasty things he'd said about Carson, and Carson chalked it up to "the politics of personal destruction," then added the kicker:
CARSON: I have to look at what is practical and what is going to save this country and the American dream for the next generation. Is there another scenario that I would have preferred? Yes. But that scenario isn't available.

MALZBERG: With one of the other candidates you mean?

Carson: Yeah.
That's not how campaign surrogacy works. That's not how any of this works.
Seconds later, Carson casually and drowsily dropped some pretty big news: Trump has offered him a position in the Trump administration:
DR. BEN CARSON: I do believe, and certainly in my discussions with Donald Trump, he does love America and he does want to be successful. And, he will surround himself with very good people.

NEWSMAX'S STEVE MALZBERG: And will one of them be Dr. Ben Carson?

Carson: I will be doing things as well, yeah.

Malzberg: In the administration.

Carson: Certainly in an advisory capacity.

Malzberg: That's been determined? You've, when you sat down with him that was discussed?

Carson: Yes.
Although he stopped short of copping to a quid pro quo for his support, the proximity of those two chunks of information, that Carson's heart was with some other campaign and that Trump has offered him a job, is, shall we say, intriguing. On behalf of the rest of the political media, Dr. Carson, don't ever change.
Have a tip we should know? tips@mediaite.com