It's part one of the two part season finale of Top Chef Season 13 and I am full of excitement. We'll be finishing Top Chef: California in none other than one of the greatest cities in California: Las Vegas, Nevada. Jeremy Ford is for some reason late to the hotel to meet Marjorie Meek-Bradley and Isaac Toups, and it all feels very Real World when he arrives. They run around the hotel room and are in awe of their embroidered pillows when they notice the cot for whoever wins Last Chance Kitchen. "We know it's coming, I've seen the show," says Isaac, breaking the fourth wall.
The cheftestants arrive in the MGM Grand Garden Arena, where they meet Tom Colicchio and Padma Lakshmi, who is wearing red lingerie. The Last Chance Kitchen winner is revealed to be Amar Santana, which first I'm happy about, but then I'm sad for him and his cot. Padma introduces the first challenge by whipping out four cards (because we're in Vegas, get it?) and explaining that they're going to break the chefs down into social classes based on cards, as they did historically. You know, before rights and stuff. For real?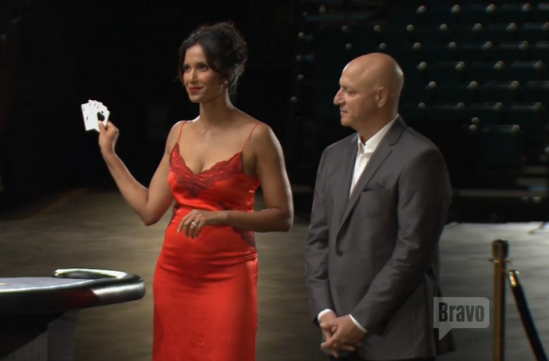 Each chef is dealt a card that correlates to a different pantry which has ingredients based on what members of that class would be able to use. Marjorie gets the space, which is royalty, Isaac gets hearts and is a member of the clergy, Jeremy gets diamonds- merchants, and poor Amar and his cot are dealt the peasant card (clubs). Two more factors: You can take ingredients from any pantry in a class lower than yours, and everyone gets a sous chef. Enter Karen Akunowicz, Kwame Onwuachi, Carl Dooley, who has been to Nicaragua, and of course sometimes-vegan Phillip Frankland Lee.
Marjorie gets the first pick and chooses Karen (#girlpower). Isaac, for some reason chooses Carl. Jeremy, apparently the only one who has been paying attention picks Kwame, and Amar and his cot are stuck with Phillip because he is a peasant. The winner of the challenge will go to the finale, and also will win $25,000.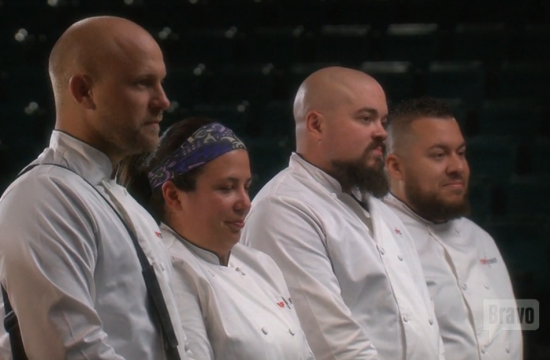 Marjorie makes salmon with vegetables, Isaac does cod with eggplant and fennel, the worst vegetable (strike one), Jeremy makes chicken with pickled grapes, and Amar makes chicken liver & onions with root vegetable puree.Everyone's dishes are great, but none so good as Jeremy's, who wins the competition. He's going straight to the finale, gets $25,000, and gets the next competition off. Amar, Isaac and Marjorie have to duke it out for the remaining spot.
David Copperfield appears, as if from nowhere. He is the perfect person to decide who gets to go to the cooking show finale, because he is a magician, and he "does with magic" what the cheftestants "do with cuisine." The challenge is to create a dish with an element of surprise, to use "culinary slight of hand or illusion," which Marjorie correctly observes is stupid. It's the finals. It's enough. Just make good food. Additionally, the chefs are forced to go to David Copperfield's magic show for inspiration.
Marjorie liked the way David Copperfield used magic to tell a story, so she will use her food to tell her story. She'll be making duck a l'orange using liquid nitrogen, something she's never worked with before. This should go well. Isaac is going to be making chicken-fried steak, which means cornish hen skin attached to a ribeye. Amar is going to be making squab with mole sauce and a bunch of other things I don't pay attention to until he mentions a "potato onion ring," which I am extremely interested in. Marjorie of course immediately burns her tongue on the liquid nitrogen she's never worked with before, so she can't taste her food.
She is also first at the judge's table. She puts on an awkward and clunky show, where the judges watch her turn ordinary food into extraordinary food. They like the dish a lot and acknowledge that it's out of her comfort zone. Tom Colicchio wishes there were more freeze dried orange. Isaac the showman presents his chicken-fried steak with a disappearing egg trick, which they love. Tom Colicchio doesn't like his fennel puree because it's smooth. I don't like it because it's fennel. Strike two, Isaac. Amar doesn't do anything really, but he lets the food speak for itself, which the judges note is surprising in itself…I guess.
Everyone made good dishes, but there can only be one winner. Each of the chefs gets to plead his or her case to the judges before the eliminations. Isaac says he's a better chef, Marjorie says that she's grown a lot as a person, and Amar tells the story of how he came to the United States from the Dominican Republic at a young age. His father encouraged him to make something of himself before he passed away.
I love all of them. I wish they all could win! They can't. Amar is the winner of the day, meaning we're saying bye to Marjorie and Isaac.
See you guys next week!
Have a tip we should know? tips@mediaite.com