Adam Richman Calls Woman 'C*nt' on Instagram: 'Grab A Razor Blade & Draw A Bath'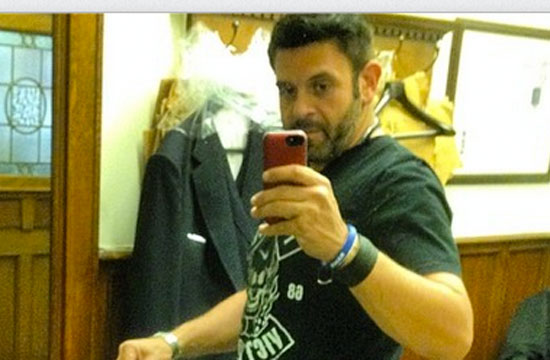 Adam Richman is in some serious trouble on Instagram after he went after a woman for calling him out on using pro-anorexic language, calling his haters "cunts" and saying that his critics should kill themselves.
The trouble arose after he tweeted the above photo of himself in a too-large suit, along with the following caption: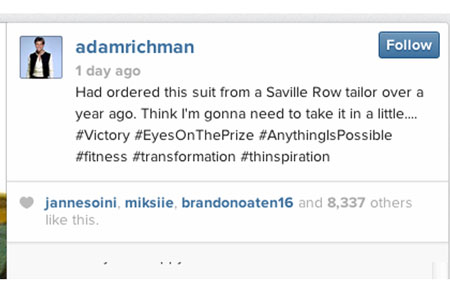 Problem is, the word "thinspiration" is heavily associated with pro-anorexic and pro-bulimia communities, who throw the word around as positive reinforcement and use it to tag fairly disturbing images of skeletal women on image sharing apps. (It's so controversial, even Instagram tags posts containing the word with a warning that the images may be "disturbing," along with a link to websites providing information to help combat eating disorders.)
While Richman may not have been aware of the actual connotations of the word "thinspiration," his response to an Instagram follower who pointed it out was "DILLIGAF?", which stands for "do I look like I give a fuck?"
Adipose Activist, a blog dedicated to fighting size discrimination, asked its followers to "tell [Richman] that eating disorders are not a joke and nothing to take lightly," but certainly didn't expect Richman's following meltdown. The posts were later deleted, but she saved screenshots of the messages:
Compounding the discomfort surrounding this issue is that Richman, a man who made his name on the extreme food show Man vs. Food, has spent the past few years publicizing his dramatic weight loss.
Richman apparently apologized later with an Instagram video (now deleted), and the following tweet (also deleted): "Yes. I've responded to internet hate recently with vile words directed at those hating me. I am sorry, I should know better & will do better."
All images via Adipose Activist
[H/t Mediaite]
Have a tip we should know? [email protected]