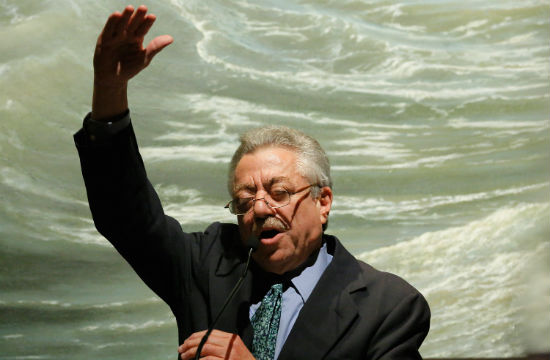 We tend to give boys a lot of flack in the desserts category, because, for all the food they claim to be able to put away, we find most of them are bested when faced with a tub of ice cream, a decadent chocolate cake, or (our personal favorite) a jar of nutella.
So, we were pleasantly surprised and remarkably impressed by Alan Richman's 31 theses about ice cream in this month's GQ. It's well thought-out, funny, deeply intense, and appropriately reverent, in our humble opinions. Alan calls out two chefs specifically in their attempts at haute ice cream, amidst chronicling his long affair with Haagen-Dazs. First, our old friend Marcus Jernmark:
"At Aquavit in New York City, chef Marcus Jernmark utilizes a Pacojet — a $4,000 kitchen gadget that simplifies the preparation of frozen desserts — to produce cool masterpieces that meld magnificently with savory food. He pairs pickled-carrot sorbet with peekytoe-crab salad, beet sorbet with steak tartare, and — his magnum opus — potato ice cream with Yukon Gold potato chips. The name understates the glory. It's an incomparable mix of potatoes, shaved black truffles, butter, salt, and pepper."
He also bestows an almost unwieldy amount of power upon pastry chefs.
"Once restaurant pastry chefs realize the power at their command through the exploitation of ice cream, they will rule the culinary world," he writes. "At Del Posto in New York, Brooks Headley takes a swipe of toasted-cashew gelato and tops it with sour-apricot sorbet, microplaned tangerine zest, Maldon sea salt, and extra-virgin olive oil from Sicily."
We're drooling.
You can check out more of Adam's low-brow ice cream praises (including old Breyers half-gallons and Good Humor trucks), and small criticisms (all Ben & Jerry's totally DOES taste the same, THANK YOU, Alan) here.
[GQ]
Have a tip we should know? tips@mediaite.com