Harry Reid's Bombshell Allegation: Bain Investor Told Him Romney 'Didn't Pay Any Taxes For 10 Years'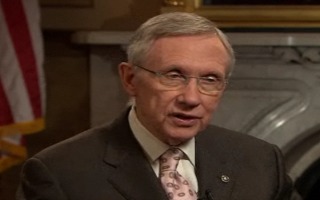 In an exclusive report on Huffington Post, Senate Majority Leader Harry Reid (D-NV) alleges that an investor with Republican presidential candidate Mitt Romney's venture capital firm Bain told him that Romney paid no taxes for a decade. Reid went on to say that he thinks Romney's father would be embarrassed by the conduct of his son during this year's presidential race.

Harry, he didn't pay any taxes for 10 years," said Sen. Reid. "He didn't pay taxes for 10 years! Now, do I know that that's true? Well, I'm not certain. But obviously he can't release those tax returns. How would it look?"
"His poor father must be so embarrassed about his son," Reid told the Huffington Post's Sam Stein and Ryan Grimm referenceing Romney's father and the former governor of Michigan, George Romney, who released 12 years of tax returns when he ran for president in the 1960s.
Asked to respond, the Romney campaign's advisor Kevin Madden told the Huffington Post that Romney has "gone above and beyond the disclosure requirements by releasing two years of personal tax returns in addition to the hundreds of pages of personal financial disclosure documents he has provided to the FEC and made public."
Madden also said that he found it "troubling" that Reid would invoke Romney's father in making this attack on the Republican candidate's finances. "We have many substantive disagreements with the senator and his policies, but using insults about a father-son relationship is a step too far," said Madden.
h/t Huffington Post
> >Follow Noah Rothman (@Noah_C_Rothman) on Twitter
Have a tip we should know? tips@mediaite.com