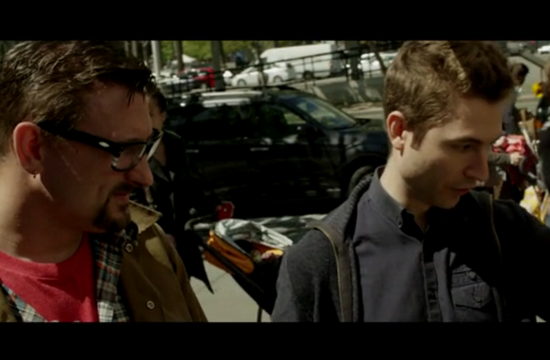 Chris "Bull In A China Shop" Cosentino might be an unlikely collaboration partner with Alex "Neuroses" Stupak, but when it comes to the Push Project — and showing off an amazing dinner — the two not only can play nicey-nice in a kitchen together, but they actually learned a lot from each other, like two beautiful, cross-pollinating flowers.
Cosentino, for one, wondered how he and the "hypertechnical" Stupak ("I don't like saying, 'molecular' or 'modern'") would get along, especially in Stupack's own kitchen. "For me, that was a little daunting to come here," he told Grub Street. "I'm basically a fucking caveman. I'm old-school in the way I cook. I like to cook simply. The guys in his kitchen were laughing at me because I don't want little petals. I want food broken and torn."
Not only did the two men share a similar New England background, they also took the opportunity to learn and grow from each other in a frank and honest manner, which is what everyone should always do, always:
CC: We're both from New England. That's a big deal, because I grew up the same way Alex grew up, which is: You say it like you see it. We may not like the answer from each other sometimes, but at least it's honest, and we know where we stand and can just move forward. I'd rather hear it flat-out.
AS: The dinner is a side effect: We're truly doing this for selfish purposes. My cooks right now are psyched. We're looking at a different mentality, thought process, and approach to cooking. The qualities I like about Chris and his restaurant are that he's super tied to the farmers and what's local. He knows all of their names. I aspire to be like that, but I'm not there. By bringing me in, it reminds me that it's a muscle I need to learn how to flex.
CC: When you say that you bring me in to show something different, it's the same thing I try to do with my staff every day. When you're uncomfortable, you're learning.
RELATED:
WATCH: Alex Stupak And Chris Cosentino Brainstorm An Eclectic Menu For The Push Project, Pt. III
WATCH: Alex Stupak And Jordan Kahn's Trailer For The Push Project Part II Will Give You Feelings
Have a tip we should know? tips@mediaite.com