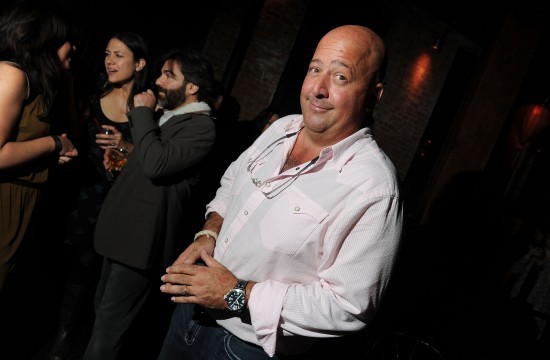 In an interview with The New Potato, Andrew Zimmern had plenty of things to say about the state of food television ("There are "Eatertainment" shows that I really could not care less for"), eating ethnic food in America ("There's ethnicity all around us…We live in a country where you're on Main Road, USA and you turn the corner and you're in Egypt, or Russia or Chile"), and a full day he spent eating in Paris.
But in keeping with his message — and the reason that he does Bizarre Eats to begin with — Zimmern urged people to think about sustainable eating, from the gross hot dogs that we cram in our gullets to the fact that we waste so much of the animals we eat: "We are the only culture that rips the heads off of shrimp when they come in and then freeze them. It's so weird – really ridiculous."
But what epitomizes his beef with, uh, beef? (It's 5:30 and I'm brain dead, sue me.) His declaration that there are better, more sustainable, and even tastier types of animals than the mass-produced livestock that we rely on:
I would go to Beijing where there's a restaurant that specializes in donkey meat (Restaurant Qun-Sheng-Shi-Jia-Can-Yin) and take some of those guys back with me and open up a donkey restaurant. People would be blown away. It tastes like veal – healthy, delicious and good for you. It's a miracle meat. Honestly, if we don't start eating like that and expanding what we eat, eating things that take less land, less time to mature, and get off of this commodity beef system…we're running out of land. We become increasingly unhealthy year after year. You know we have a starvation issue in this world. If we don't start embracing those other proteins…we're killing ourselves.
[h/t The New Potato]
Have a tip we should know? tips@mediaite.com