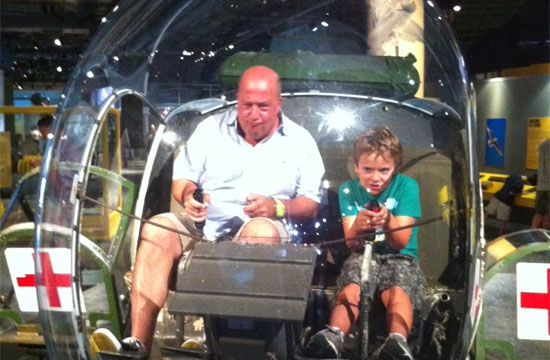 As part of their Food Informants series, The Huffington Post had Andrew Zimmern chronicle a week in his awesome globetrotting life, complete with cameo appearances by Gavin Kaysen, Jose Andres, Andy Cohen, and Spiderman. Our response: Why can't we have awesome globetrotting lives like Andrew Zimmern? And why would he write about it for The Huffington Post, if not to make us jealous?
For instance:
I went down to the kitchen at Café Boulud to start work [for a charity dinner later that night] and my friend Gavin Kaysen, who is also the chef there, informed me that his sous chef Aaron had already taken care of all it for me. The team at Café Boulud is as top notch and buttoned up as they come. So as a way to say thanks, I ate my way around each station, devoured a few mis en place set ups for the evening service, and headed back upstairs to nap. I am a bastard.
Yes, Zimmern, you are a bastard.
In the middle of a hectic day [Jose Andres] took me away from my crew, sat me down at the bar at Oyamel and peppered me with questions about my family and non-work related issues. He cares about his friends and wanted to make sure I was doing enough with my wife and son these days. I can't tell you how forward thinking this man is, from international affairs to charitable endeavors, he is a rock outside the kitchen.
"Eeeeeuuugh, look at me, I'm Andrew Zimmern! Jose Andres is hugging me with his heart!"
Cee Lo Green sent me a rare aged bottle of sake with my name etched in the case. I was floored.
Fine. You know what, Zimmern? You win. You're cooler than us. We get it. You can take your beautiful house and your beautiful wife and the fact that you and Cee Lo Green are brothers from other mothers, and eat all the fancy food trucks, and saute all the geoducks the size of elephant dongs to your heart's content, and then you can fly away in your fighter jet. Now if you'll excuse us, we have some lint we need to pick out of the crevasses of our keyboards. We're super busy people.
Have a tip we should know? tips@mediaite.com