Andy Ricker Is Serving Pad Thai Because New Yorkers Are Spicy Chicken Wing Maniacs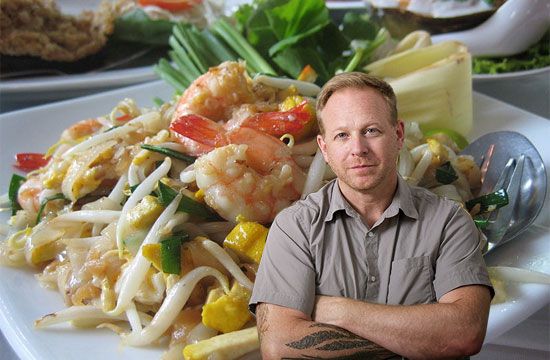 Ever since he opened his first Pok Pok restaurant in Portland, OR, Southeast Asian-ish chef Andy Ricker was adamant that, no, guys, there is no pad Thai on the menu; no, there are no immediate plans to add pad Thai to the menu; yes, I know that you really really really love pad Thai and that is very nice, but why don't you have some spicy wings and Chả cá La Vong instead?
Until today. His Lower East Side wingery, Pok Pok Wing, closed yesterday and will reopen on Friday as Phat Thai, which will serve, obviously, pad Thai. The news left some people scratching their heads, particularly since the spicy Vietnamese-style wings were incredibly popular.
But apparently they were too popular. "Our kitchen simply cannot manage the volume of wings we have to prep on a weekly basis," he told the New York Times, adding that he hopes to soon get a larger restaurant to handle all the spicy wings that you food hipsters want to eat.
But lest you think he sold out, Ricker says that he's been planning a pad Thai restaurant for a while, and plans to serve authentic-style pad Thai with prawns and pork, cooked in rendered pork fat, with the option to substitute glass noodles — and, even though there's a vegan version, there will absolutely be no chicken pad Thai on the menu. As he said to the Times, "The dish is made only for tourists in Thailand, though there is chicken in a stir-fry broad noodle dish called Kuaytiaw Khua Kai."
The more you know!
[NYT]
Have a tip we should know? tips@mediaite.com