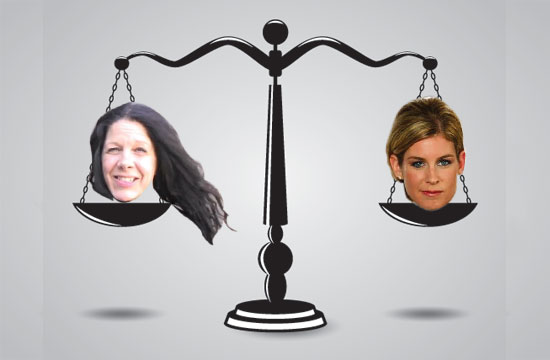 A few days ago, former Top Chef contestant Jennifer Carroll was Twitter-accosted by singer Johnette Napolitano, who accused her of stealing the name of her somewhat successful alt-rock band, Concrete Blonde, and slapping it on her upcoming restaurant. Via a stream of highly profane tweets, the singer gave the chef two options: either relinquish the name, or give her "an apology and a check monthly for every month she has that place open."
While our initial reaction was "Lady, there is no need to be throwing the c-word around," we began wondering: disregarding the way that Napolitano handled things (seriously, no need to sic your followers on a lovely television chef!), who has the legal right to use the name "Concrete Blonde"?
We spoke to Mark Eiglarsh, an adjunct professor at the University of Miami School of Law, who has provided legal commentary on such major media outlets as ABC, FOX, and NBC. His response: Napolitano can't really make an exclusive, "meaningful claim" to the name "Concrete Blonde."
"Well, a gentleman [who owns a winery] also trademarked the name Concrete Blonde, but that doesn't preclude another entity from using it as long as there's no substantial likelihood of confusion," he told us in a phone interview. "It's hard to reasonably conclude that these entities are the same."
According to Eiglarsh, there would be no way to "reasonably" conclude that the two names and entities share any "confusing similarity", a concept long used to settle trademark disputes over name issues. Jennifer Carroll's Concrete Blonde is "presumably a high-end, fine dining restaurant" that can't really be confused with an alt-rock music band fronted by a Twitter-happy lead singer.
However, if Carroll's venture began drifting into the music biz — if she were to, say, sell music, host live shows, or sell band memorabilia through her restaurant — that would be problematic. As proof, Eiglarsh cited Apple Corps v. Apple Computers, an infamous case in which The Beatles-owned company unsuccessfully sued the computer startup for sharing the same name. "It only became problematic when Apple [Computer] broke their settlement agreement and started selling music," he added, pointing to the times when Apple Computer began selling MIDI files and, eventually, music through iTunes. (The two companies eventually settled.)
His advice to Carroll: change the name anyways, but only to avoid costly and expensive litigation. "[Napolitano] could potentially bring litigation, but I doubt that she can make any meaningful claim," he concluded.
RELATED:
Jen Carroll Secured Concrete Blonde NYC Investors Through Her Ex-Boyfrien
Tonight In Food TV: Jen Carroll's Mom Mistakes Pop-Up Restaurants For Raves
Eric Ripert Explains Why He's Abandoning Philly's 10 Arts (And Why He's Still Cool With Jen Carroll)
Have a tip we should know? tips@mediaite.com