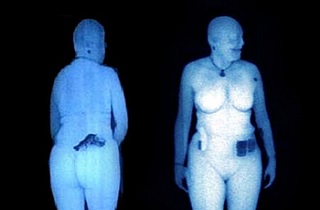 Democratic-leaning Public Policy Polling, besides being  dead-on accurate, is also known for the occasional offbeat survey question, and in their newest travel poll, the firm produced a truly disturbing one. While chasing down Americans' travel habits and preferences, PPP asked if passengers should be allowed to carry guns aboard airplanes. Shockingly, more than zero percent of Americans said they should, and perhaps less shockingly, a full 30% of Republicans want to be able to stand their ground even when they're off the ground.
At first blush, PPP's new poll seems like a feather-light waste of time, ranking the approval ratings of various airlines, and taking a "Mile High Club" census, but the question about guns was revealing:
16% of Americans think you should be able to bring your gun onto a plane. There's a large partisan divide on the issue with 30% of Republicans but only 6% of Democrats supportive of guns on planes. We also asked about expanded background checks on this poll and a plurality of the people opposed to them also think you should be able to bring your gun on the plane.
Furthermore, only 3% of people who voted for President Obama in 2012 thought guns should be allowed on planes, versus 27% of Romney voters, and another 8% who weren't sure. That means more than a third of people who voted for Mitt Romney* are open to the idea of armed airline passengers.
What the poll forgot to ask is how many people actually think guns are already allowed on planes. Judging from the TSA's armory of confiscated weapons, there are a lot of them:
Years after the 9/11 attacks prompted such serious crackdowns on airplane security that you can't take a regular bottle of shampoo on board, the T.S.A. found 1,549 firearms on passengers attempting to go through screening in 2012.

According to The AP, this year alone screeners have "found 894 guns on passengers or in their carry-on bags, a 30 percent increase over the same period last year." In one week in May, screeners seized a record 65 firearms, "45 of them loaded and 15 with bullets in the chamber and ready to be fired." The previous record was set two weeks earlier when they found 50 guns.
The TSA has recently decided to allow passengers to carry small knives onto airplanes, so who knows?
I was also surprised to learn that 46% of Americans have flown first-class, which seems like a high number, especially given that 75% of the people surveyed fly infrequently, or not at all. Also amusing is the fact that 1% of Republicans responded that they were "not sure" if they'd ever flown first-class, no doubt replying " Is there any other way?"
Gun policy is back in the news these days, by virtue of the Stand Your Ground debate that the Zimmerman verdict has sparked. Poll results like these should give Americans an unsubtle hint about whom they should listen to.
*Mitt Romney was the 2012 Republican presidential nominee.
Have a tip we should know? tips@mediaite.com