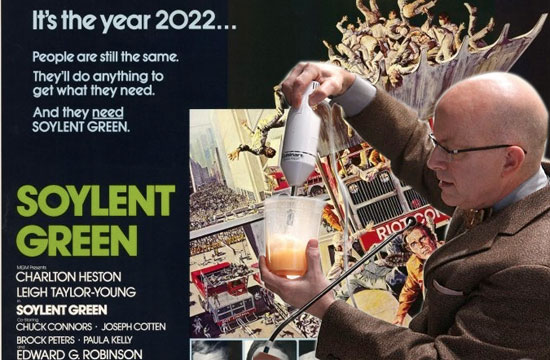 Last weekend, White House executive pastry chef Bill Yosses stuffed his dark cloak into the hidden panel in his closet, boarded a flight to Ireland, and, after shaking hands with his Illumina-Gastronomy brotherhood and sacrificing a goat on the grave of Augustus Escoffier, spoke about the future of food at the Euroscience Open Forum.
It was here, according to conspiracy website Natural News, that Yosses, serving lemonless and chocolateless souffles that tasted like lemons and chocolate, spilled the elites' secrets about what the world would eat in 20 years: things with chemical compounds and bursts of flavor, instead of natural, whole foods.
Yosses sees this as a positive, as he told RTE Six One News in an interview that got totally taken out of context: "Chefs and cooks can have an understanding of what [the food scientists] are doing and use those processes to improve not only the flavor, but the hygiene, the longevity, how to store things — all of that comes about from understanding cooking on a really molecular level."
But to the entire internet conspiracy community, this sounded uber sinister. Chemicals as flavor and foods? OH MY GOD THERE WILL BE NO MORE FOOD.
The troubling seminar on chemical-based "foods of the future" is actually a troubling foreshadowing of what may soon come for Americans. Some scientists are apparently of the strong persuasion that man-made food items are preferable to natural foods, and the former is what they hope the public will eventually accept.

The average person, in other words, will eventually be expected to happily eat green gelatin-like blobs made of chemical compounds, along with ambiguous cracker products that resemble "Soylent Green," while the White House and the world's other elites continue to eat wholesome, natural foods, including those hand-picked from Michelle Obama's organic garden.
Which is why there are yearlong waiting lists for molecular gastronomy restaurants like Alinea, The Fat Duck, wd-50, and el Bulli (once upon a time), with menus that cost up to $500 per person, not including wine pairings. Because the world's elites would never wait six months to eat a green gelatin-like blob that tastes like olives. Yep.
(But note that no, this does not make Marcel's SyFy show the Da Vinci Code.)
[Natural News via Obama Foodorama]
Have a tip we should know? [email protected]