WATCH: Bill Yosses Converts To Michelle Obama's Healthy Eating, Repents For Years Of Pastry-Making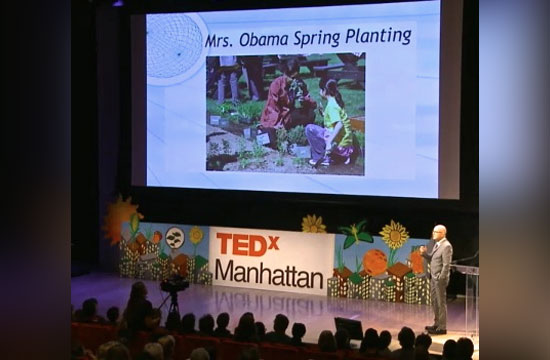 At  yesterday's TEDx Manhattan "Changing The Way We Eat" conference, White House Executive Pastry Chef Bill Yosses stepped up to the microphone and dropped some major, earthshaking news: the executive cake boss had converted to healthy eating.
"I am a converted — a repentant pastry chef," he said of his St. Paul-esque conversion, though the conversion experience was not in the form of a heavenly vision/epilepsy. Instead, according to Obama Foodorama, he became a vegevangelist as a result of leading Michelle Obama's "Let's Move!" campaign against childhood obesity. Apparently, giving children tours of the White House garden and preaching healthy eating makes one question one's life choices.
Though he admitted that he wasn't turning his back on his own profession, Yosses said that he was coming out as healthy eater precisely because he was a pastry chef, comparing his situation to Richard Nixon's Republican support of the Environmental Protection Agency.
"It's kind of like…when a member of one political party advocates something from the other political party — then people really listen," Yosses said.  "If pastry chefs are worried that the amount of fat and sugar that we're consuming is a problem…then we really have a problem."
That being said, there's one thing for which he can use his 30 years of pastry experience in pursuit of lowering childhood obesity: making healthy food not just tasty, but decadent. Even pastry could remain healthy, despite being served in smaller portions. Protip from Yosses: honey instead of sugar makes cakes stay moist longer.
Yosses's speech starts at the 1:44 mark.
Have a tip we should know? tips@mediaite.com