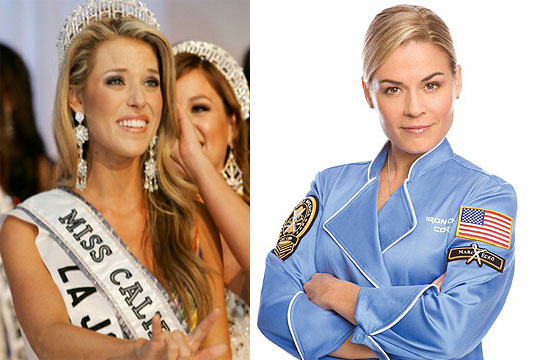 Cat Cora wears many hats as a restauranteur, television personality, Bravo host, and mom of four, but now she gets to add a shiny, judgmental tiara to the mix: NBC, Donald Trump and the Miss Universe Organization announced today that Cora will join the judges panel for the Miss USA Pageant.
"OMG, I've been asked to be a judge on @MissUSA!!" she tweeted today, probably as shocked as we are that it's that time of year again for the Miss USA Pageant.
The former Iron Chef joins some other craaaaaazy characters on the judges' panel, including Joe Jonas, Arsenio Hall, former Bachelorette Ali Fedotowsky, and some Rob Kardashian sock puppet person — and they'll all get together and ask young women questions about maps and changing the world when the pageant airs live on June 3rd on NBC.
Cora will appear on the show with hosts Andy Cohen and Giuliana Rancic, fashion commentator Kelly Osbourne, and performers Cobra Starship and Akon.
This annual celebrity clusterfuck is run by The Donald, wherein women compete for the chance to live with the other pageant winners at the top of Trump Tower, marks the first time that a celebrity chef has judged a beauty pageant of this prominence. There's something to be said about chefs being authoritative enough to be considered judges of something as subjective as beauty, but the number of celebrities thrown into this post sort of makes our heads spin. So, congratulations on your hosting gig, Cat Cora! You might accidentally make a girl cry, but that's the nature of the game.
[Cat Cora: @catcora]
Have a tip we should know? tips@mediaite.com