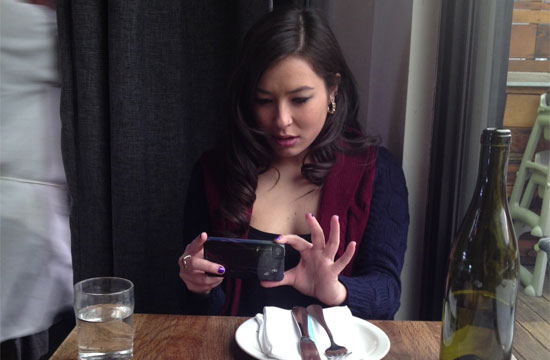 To all those people who must, must, must take photos of their food: please don't. Really. All of the chefs in this NYT trend piece would really appreciate it if you didn't, for the sake of ambience and respect for your fellow diners and the future of our children (chefs are the world!).
But if you must, or if you're a ramen blogger who "has obsessive-compulsive disorder and [a] love of food," here are some tips from people who will reluctantly accomodate your occasionally annoying passion:
Let someone else take the photos: Moe Issa of Chef's Table at Brooklyn Fare will gladly send you professionally-shot photos of your meal, as will David Bouley, who's working on a photo system that operates sort of like those roller-coaster portraits.
If you really need to send your friends photos of your Oysters and Pearls at that moment, don't use flash: it not only washes out the food's colors in the photos, it's also disrespectful to your fellow diners. Why would you want to give someone in the dining room an epileptic fit?
Go to the kitchen and take photos there: "We'll say, 'That shot will look so much better on the marble table in our kitchen,' " Mr. Bouley told the Times. "It's like, here's the sauce, here's the plate. Snap it. We make it like an adventure for them instead of telling them no."
Or just freaking listen to the chef and put your camera away: All the chefs profiled here — and the restaurants profiled — agree that photography destroys the dining experience. "It's a disaster in terms of momentum, settling into the meal, the great conversation that develops," he said. "It's hard to build a memorable evening when flashes are flying every six minutes."
If you follow these four rules, you will probably become every chef's best friend and confidante. Okay, maybe not, but they're certainly not going to hate you — and that's a start.
[NYT]
Have a tip we should know? tips@mediaite.com