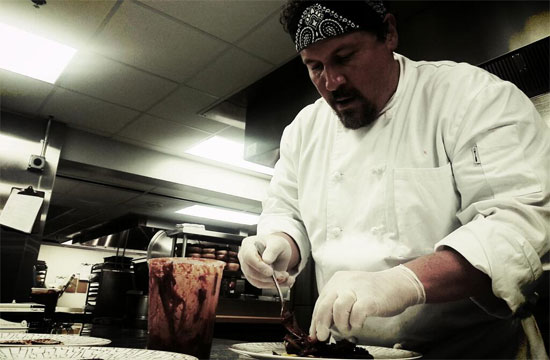 El Jefe and the gang is back: now that Jon Favreau and Open Road Films have announced a re-release of the movie Chef at the end of the month, it's safe to assume that the move is all about nabbing those awards — you know, Oscars and such. (The Hollywood Reporter shares that when Chef hits theaters again August 29, film guild members will be able to see it for free, so more incentive to see it and vote for it.) But does Chef have what it takes to go all the way? Is Favreau et al. hungry enough to get after it? Our analysis ahead:
The Audience's Reaction: As of this weekend, Chef has pulled in $30 million since its release in May. Those are some kahunas right there.
The Critical Reaction: When it first opened, the critics weren't as won over as you might have thought. From the Hollywood Reporter after it debuted at SXSW:
The story, revolving around food but really concerned with any sort of personal creative drive, may lack the ingredients of a mainstream comic hit; but audiences drawn in by its franchise-worthy cast will likely respond warmly… If the final scenes dispel with any lingering bad vibes in a much too-tidy way, viewers drunk on food-porn shots of melting cheese and frying beignets are unlikely to complain.
After the premiere, though, general critics were won over by Chef. (It also didn't hurt that Mario Batali and the like threw their back into the movie, and who's really going to argue with Mario Batali?)
Awards Won So Far: The Tribeca Film Festival's Narrative Award for Best Feature. No Sundance, but it was a nice boost for the just-released film.
Could It Go All The Way: Well, we don't think that Chef will not be nominated for something — though a Best Picture nom would be an uphill battle.
To predict that Chef would be nominated for a cinematography category for the Globes or the Oscars is a generally safe bet, we think. Let's be real: the real supporting cast of that show was the food! We won't even hold it against Favreau that he wanted to "shoot food the way Michael Bay shoots women in bikinis." It is food porn come to the big screen, and that may win over some guild members.
A Best Screenplay nod would be our next guess, and that would be monstrous for Favreau. He's called it a very "personal" film, which shines through in the screenplay. But comparing Chef to past nominees for the Golden Globes, Independent Spirit Awards, and the Oscars makes Chef look like small potatoes; past nominees include Her, American Hustle, Silver Linings Playbook, Django Unchained, 12 Years a Slave, Lincoln. The Independent Spirit Awards might be a good shot, as some lesser-known films are nominated. But still, when you're up against Woody Allen for Best Screenplay, the competition is already going to be stunted.
It's kind of the same story for Best Director. If the director of Elf and producer of Iron Man can somehow nab a Globe or Oscar Best Director nomination, Favreau will officially shake up the tired old game of Best Director for all time. More umph for an Independent Spirit Award nomination, but Favreau remains an underdog still.
A Best Actor or Best Picture nomination are, well, out there. We could compare it to Crash pr Beasts of the Southern Wild, but does Chef have the same emotional gravitas as those indie nominees? We guess not.
Nevertheless, we can hardly deter the little-food-film-that-could for going all in for awards season. As Cinema Blend blog points out, it all runs in the metaphors, baby:
This is probably one of, if not the, earliest awards pushes we've ever seen, but frankly if it exposes a new audience to the film, then can you really call it a bad thing? Jon Favreau crafted this film as a metaphor of sorts, as he broke away from the more big-budget, high profile work he's been doing in Hollywood as of late, and instead decided to dedicate himself to something smaller and more intimate (attracting a gaggle of movers, shakers, and notables to join him for the ride). If you like movies where the cast is a bunch of true believers who sell what they're doing in the film, then chances are Chef is something you should be spending your hard earned movie money on.
Now we wait and see if we're right.
[Hollywood Reporter, Cinema Blend]
RELATED:Roy Choi Explains the Soul-Crushing, Stereotyped, Bad Haute Cuisine in Chef
Chef Wins Tribeca Film Festival's Narrative Award for Best Feature
Have a tip we should know? tips@mediaite.com