Dan Abrams Exemplifies Vegetarian Politeness On GMA, While Mel B Trashes Food At Today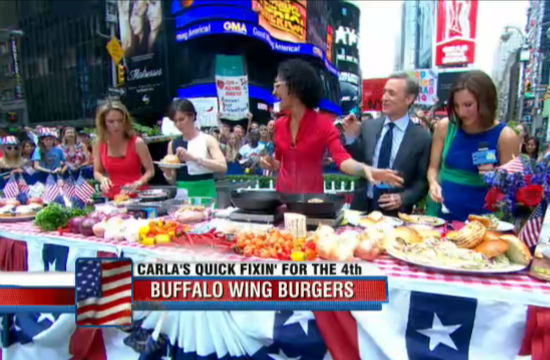 What? News Man vs. Spice Girl isn't a comparison you ever thought you'd see drawn here? We contain multitudes, bro.
So, we'll let you in on a little morning news trivia: Good Morning America legal analyst, newly appointed Nightline co-anchor, and The Braiser bossman Dan Abrams is a vegetarian. We hear he twice made the shortlist for PETA's Sexiest Vegetarian, but that was before our time. (No no, it's okay, we don't have any vegetarians on the actual editorial staff. We eat all of god's creatures, in complete and total journalistic fairness.)
So when he participated in a Carla Hall cooking demo on GMA yesterday and announced she was making buffalo wing burgers, we got real nervous. The potential for this to go the whiny Hoda Kotb lactose intolerance route was, frankly, high. (Another piece of morning news trivia: Hoda Kotb doesn't do dairy, and she makes a huge, impudent deal about it every time she participates in a demo during Fourth Hour. And we won't even bring up the Savannah Guthrie/Fergus Henderson incident again. Poor chefs.)
Three minutes to do a live dump-and-stir demo, plus answer questions, plus plug your latest project, all while remaining garrulous and charming is a tough gig for even the most seasoned TV chefs. Ain't nobody got time to deal with some anchor's celiac disease on top of it.
But Dan did okay! He politely left his personal feelings towards meat out of the demo, gamely tasted and complimented all the veg options, and otherwise handled himself with a modicum of vegetarian grace. Check out the clip below.
Meanwhile (technically the next day), a few blocks uptown, Mel B. was guest co-hosting The Today Show, and told some poor drinks columnist that her Iced Soy Chai Tea looked "like baby milk" while pulling a gross-out face. NOT HELPFUL. This is not how we set our guests up for success. Check out her segment below.
Visit NBCNews.com for breaking news, world news, and news about the economy
The moral of the story, here, is don't be like Mel B. Be a polite eater, and keep your pickiness to yourself when someone else is graciously cooking a delicious meal for you. For more tips on how to be a proper food guest, check out Andrew Zimmern's dinner party rules.
Have a tip we should know? tips@mediaite.com