Dining Diaries: Cornelius Gallagher's Fave Birthday Meal Is None Other Than The Wife's Chicken Parm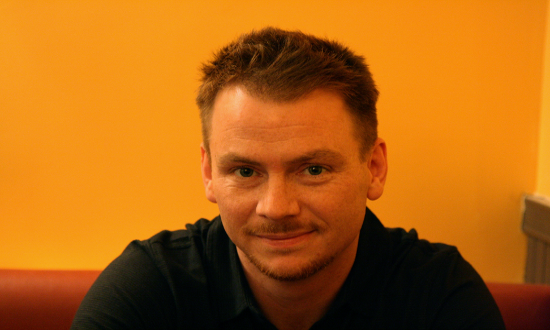 By this point, we're sure you've picked up on the fact that we at The Braiser are not about the food. We're not about the restaurants. We're especially not about the reviews. We're about the chefs. All that celebrity dishy-ness behind the food and the restaurant and the Michelin stars fascinates us. Sure, we looove food, and brag about the fancy places at which we are sometimes are allowed to eat, and will judge you if you "give your stars back," Marco Pierre White. But, ultimately, we want to know what the people serving up the food are all about. Thus: Dining Diaries was born.
Dining Diaries will ask one chef each week about his or her personal favorite dining spots. Not recommendations, or hawking their co-star's newly opened whatever as a PR favor. But where a celeb chef goes to eat or drink or brunch or late-night snack or hangover binge on his own time.
This week's chef in the hot seat is Cornelius Gallagher, the former chef of Dragonfly in New York City. Previously, he gained respect and acclaim as the excutive chef at Oceana, picking up three stars from the New York Times. He was also named one of Food & Wine Magazine's "Best New Chefs" and New York Magazine's "Best Chefs" in 2003.
So, we asked Gallagher, where do you go:
To get an after work nightcap: The bar at David Burke Townhouse
For a late night meal: Blue Ribbon
For your early morning coffee: Dunkin Donuts
For a weeknight dinner in the neighborhood: Vincent's Clam Bar in Carle Place
For dinner with visiting friends and family: Molyvos
To get your favorite sandwich: Michael Anthony's suckling pig sandwich at Gramercy Tavern
For a lazy Sunday brunch: Garden City Hotel
For your weekly grocery shop: Citarella…….just kidding, King Kullen or H Mart (great Asian grocery)
To order Tuesday night takeout: My restaurant Dragonfly
To while away a sunny Saturday afternoon: Louie's on the water in Port Washington
To celebrate your birthday: At home eating my wife's Chicken Parmesan
PREVIOUSLY: David Burke, Michael Chiarello, Chris Hastings, Nicholas Elmi, Jenn Louis, Sunny Oh, Waylynn Lucas, Paul Qui, Harrison Keevil, James Boyce, Jeff Michaud, Manuel Trevino
Have a tip we should know? [email protected]