Obama Campaign Releases Video Response To Mitt Romney Speech: 'What Romney Didn't Say'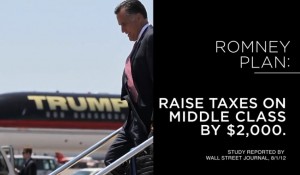 President Obama's reelection campaign has released a two-minute web video response to Republican presidential nominee Mitt Romney's Thursday night acceptance speech at the Republican National Convention, but rather than focusing on the candidate's speech, the video highlights a lack of substance, and condemns Romney's failure to even whisper a mention of  the soldiers who are still fighting and dying in Afghanistan.
The video opens with a serious-voiced narration that says "On Thursday night, Mitt Romney gave the biggest speech of his campaign – a chance to tell America what he's done and what he might do as President. So what did he say?"
It then cuts to clips of Romney saying "Now is the moment when we can do something. With your help we will do something," and "Now is the moment when we can stand up and say, 'I'm an American,'" and "I learned the real lessons about how America works from experience."
Well, when you play them together like that, it does sound a little bit vacuous.
"But Romney offered no tangible ideas to move the country forward – not a word about his plans for the future," the narration continues. "He didn't talk about his plan to give trillions in tax cuts to big corporations and the wealthy paid for by the middle class; or his plan to end Medicare as we know it by guaranteed benefits with a voucher system. He didn't talk about his budget, which could cut funding for K-12 education and Pell Grants for college by 20 percent; or his plan to slash funding for renewable energy like wind, but keep billions in taxpayer subsidies for oil giants."
Perhaps most damningly, and not unnoticed by the political media, the narrator notes that "at a time when 84,000 Americans men and women are fighting for their country in Afghanistan – not a single mention of how, or when, to bring them home safely."
"Thursday was Mitt Romney's big night to tell America his plans for moving forward, yet he chose not to. When you learn about the Romney plan, is it any wonder he doesn't have much to say?"
Here's the video, from Obama For America:
Follow Tommy Christopher (@TommyXtopher) on Twitter.
Have a tip we should know? tips@mediaite.com