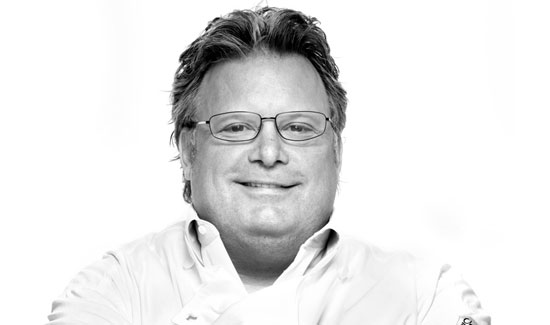 By this point, we're sure you've picked up on the fact that we at The Braiser are not about the food. We're not about the restaurants. We're especially not about the reviews. We're about the chefs. All that celebrity dishy-ness behind the food and the restaurant and the Michelin stars fascinates us. Sure, we looove food, and brag about the fancy places at which we are sometimes are allowed to eat, and will judge you if you "give your stars back," Marco Pierre White. But, ultimately, we want to know what the people serving up the food are all about. Thus: Dining Diaries was born.
Dining Diaries will ask one chef each week about his or her personal favorite dining spots. Not recommendations, or hawking their co-star's newly opened whatever as a PR favor. But where a celeb chef goes to eat or drink or brunch or late-night snack or hangover binge on his own time.
We're proud to feature Chef David Burke as our inaugural entry.
David Burke won a MOF Diplome d'Honneur at just 26 years old for exceptional mastery of French cuisine and later earned three stars from the New York Times for his work at Charlie Palmer's River Cafe. Since then, he has opened David Burke Townhouse, David Burke at Bloomingdales, Fishtail by David Burke, and David Burke Kitchen in New York, as well as David Burke's Primehouse in Chicago, David Burke Prime at Foxwoods Resort and Casino, and David Burke Fromagerie in Rumson, New Jersey.
And don't forget that he sometimes pops in to judge Worst Cooks in America, compete on Top Chef: Masters, and invented can o' cake. Yeah, that was him. So we asked David Burke, where do YOU go:
To get an after work nightcap: Opia is very close to my Upper East Side restaurants which makes it very convenient for a late night drink.
For a late night meal: Sushi Seki, J.G. Melon both restaurants are on my way home and always good!
For your early morning coffee: Au Marche du Sud in my girlfriend's neighborhood. I stop for a cup in the mornings on my way to work.
For a weeknight dinner in the neighborhood: Brio, right next door to David Burke Townhouse! Massimo Carbone's food is always great!
For dinner with visiting friends and family: Boulud Sud. I have a very good time there, the food is excellent and the ambiance is spectacular.
To get your favorite sandwich: Maoz for the best falafels!
For a lazy Sunday brunch: The Waterclub. It has the best lobsters and great brunch!
For your weekly grocery shop: Gourmet Garage is a great neighborhood grocery store which is very convenient when I want to make something at home.
To order Tuesday night takeout: Felice is consistently good and very reliable when it comes to delivery.
To while away a sunny Saturday afternoon: Food Hall at the Plaza – Todd English's café is great and it perfect for people watching.
To celebrate your birthday: La Grenouille and Per Se are two great restaurants – classics.
Have a tip we should know? tips@mediaite.com