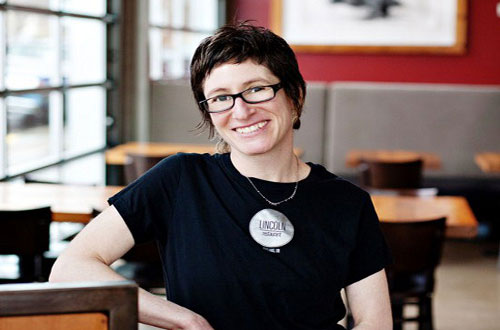 By this point, we're sure you've picked up on the fact that we at The Braiser are not about the food. We're not about the restaurants. We're especially not about the reviews. We're about the chefs. All that celebrity dishy-ness behind the food and the restaurant and the Michelin stars fascinates us. Sure, we looove food, and brag about the fancy places at which we are sometimes are allowed to eat, and will judge you if you "give your stars back," Marco Pierre White. But, ultimately, we want to know what the people serving up the food are all about. Thus: Dining Diaries was born.
Dining Diaries will ask one chef each week about his or her personal favorite dining spots. Not recommendations, or hawking their co-star's newly opened whatever as a PR favor. But where a celeb chef goes to eat or drink or brunch or late-night snack or hangover binge on his own time.
Jenn Louis is the chef and co-owner of Lincoln Restaurant and Sunshine Tavern in Portland, and was nominated for a James Beard award, as well as named on of Food and Wine magazine's "Best New Chefs" in 2012. In addition, she owns Culinary Artistry, one of the city's top catering companies.
So, where does this northwest chef go…
To get an after work nightcap: Club 21. It's super divey and comfortable and they have bourbon. Takes care of all my needs! They also have the best neon sign ever (on the roof). It says: STEAKS, FOR YOUR ENJOYMENT.
For a late night meal: Sushi zilla. Late night uni is awesome, and they have bourbon.
For your early morning coffee: Ristretto Roasters on Williams Avenue or in the Schoolhouse Electric building.
For a weeknight dinner in the neighborhood: Podnah's Pit. [I get] the Plato Tejano with a side of mac and cheese… and a bourbon.
For dinner with visiting friends and family: Nostrana.
To get your favorite sandwich: Foti's for a lamb gyro.
For a lazy Sunday brunch: Podnah's Pit. Order the biscuit basket. [It's] 3 buttermilk biscuits with butter and homemade jam.
For your weekly grocery shop: My walk-in at Lincoln Restaurant. I fill a bus tub every Saturday night and bring it home full of goodies for the weekend.
To order Tuesday night takeout: Portland unfortunately doesn't have a lot of take out spots. If they did, I wouldn't want to wash the dishes anyway.
To while away a sunny Saturday afternoon: Tacos and a margarita at Por Que No.
To celebrate your birthday: Gruner.
Have a tip we should know? tips@mediaite.com