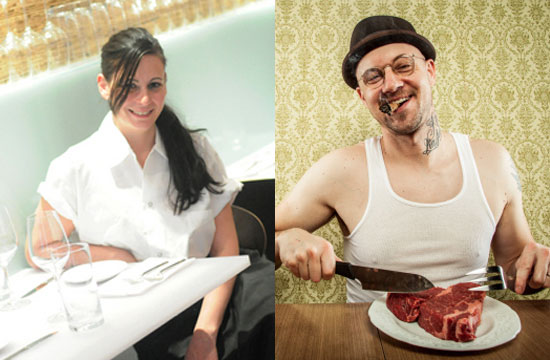 The preposterous, testosterone-filled list that is Men's Health's Manliest Restaurants of 2012 will never not be entertaining for us human, steak-loving women. While we decided to help the ladies out there find the best restaurants for celebrating friendship and periods (and had our advice taken to heart by none other than Eva Longoria), Amanda Cohen, chef-proprietor at New York's Dirt Candy, decided to beat Men's Health at their own game.
That's right, ladies, Cohen will soon be opening up Man Candy. "Being competitive, I vowed that if someone, somewhere, was having a competition for 'Manliest Restaurant' then Dirt Candy would win," she wrote on her blog. "So I've made a few changes to the place."
Among the changes that have left us weak-kneed women reaching for the smelling salts:
Your table will always be occupied by a grizzled mercenary, who's fresh from a sub-Saharan tribal conflict and slugging back no-name whiskey. You'll have to fist fight him to get him to leave, but don't worry: the mercenary always loses. After seating you in enormous wingback leather armchairs, your waiter will bring out cigars the size of tree stumps and glasses of scotch. This scotch is made especially for Man Candy and you can toss it back all night long without ever getting drunk. It simply gives you a nice buzz and makes your stories extremely fascinating.

…

There are three categories on our menu: Meat, More Meat, and A Whole Lot of Meat. Choose Meat and you will be led to a cave at the rear of Man Candy where you will be allowed to kill an entire pride of lions who are threatening a native village. With More Meat, you will be given a pair of boxing gloves as a herd of elephants stampedes your table. Each elephant is savage in appearance but possessed of a glass jaw. They will be pureed in a blender and served "fondue" style.
Be warned: if you are a woman and choose to read the rest of the post on Dirt Candy's site, you should go in with some sort of protection. We didn't, and now we're all pregnant.
[h/t Eater]
Have a tip we should know? [email protected]