Eddie Huang Talks Pot, The Marcus Samuelsson Feud, And Stripper Sharks On Hooked Up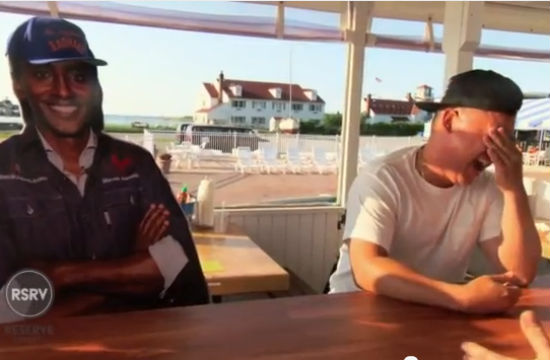 "I'm such a pothead that I don't wake up 'til 11 most days," Eddie Huang confesses in a town car in the still-dark early morning on the day he was slated to go shark fishing with Tom Colicchio in Montauk for his new RESERVE Channel series Hooked Up.
The first episode is now live, and it's amazing. We're not sure if it's just this installment's guest Eddie Huang, or if it's the dynamic between Huang and Colicchio but, whoa: watch this web series. It's every bit as good as Eric Ripert's YouTube show On the Table, except with the exact inverse ratio of class to crass.
Eddie Huang's high school felony probation to law school graduation to refusing to eat Food Network's shit sandwich is all in the Cliff Notes version of the chef's bio. But did you know he first started cooking for other people as a stand-up comic? He'd bring fried chicken and fried rice to his sets and feed the masses before performing, and, through that, he wound up on the goofy Food Network series Ultimate Recipe Showdown with Guy Fieri. He basically gave the network a big fuck you, but they took the time to inform him that he could actually, sincerely, genuinely cook.
"I'm not really special. I learned everything from my mom, I never went to culinary school. I just paid attention," he said of being steered in a foodwardly direction.
Tom grills him on everything from David Chang comparisons to the Marcus Samuelsson feud, and also at one point accuses Eddie of being a lesbian for liking Alanis Morissette in the 90s? Which like — hey!
Eddie admits that, sometimes, his dad will eat at Momofuku Ssam Bar, up the street from BaoHaus, just to mess with him.
"He's such a dick," Eddie joked.
Tom and Eddie's shark-fishing-to-taco-eating adventure is interspersed with cutaways of Eddie playing a hard-hitting game of either/or. Among the tough calls:
Rachael Ray or Paula Deen: "I'm an ass man, I'm going Paula Deen." For the record, Rachael Ray's cleavage at the New York City Wine and Food Festival Roast of Anthony Bourdain would have been enough to flip even the most loyal of ass men. But he wasn't there, so we'll cut him a break.
Tupac or Mick Jagger: "Mick Jagger looks like a cigarette, I'm going Tupac."
Momofuku pork bun or McRib: "McRib. It's the unicorn of all food items, it comes once a year."
Obama or Romney: "Once you go black, you never go back. Of course he's getting a second term!"
Marcus Samuelsson or P. Diddy: "Diddy would dance all over him."
Manhattan or Brooklyn: "Mos Def said it best: Manhattan keep on makin' it, Brooklyn keep on takin' it. Manhattan."
If he was stuck on a desert island with one girl, one drink, one album, and one book? Girl: Elizabeth Hurley. Drink: green tea, because you "can't live without anti-oxidants." Album: Camp Lo's Uptown Saturday Night. Book: Tao Te Ching by Lao Tzu. And lots of pot.
And finally, who'd play Eddie Huang in a movie? "TI, 'cause he has chinky eyes."
Check out the episode in its entirety below.
Have a tip we should know? tips@mediaite.com