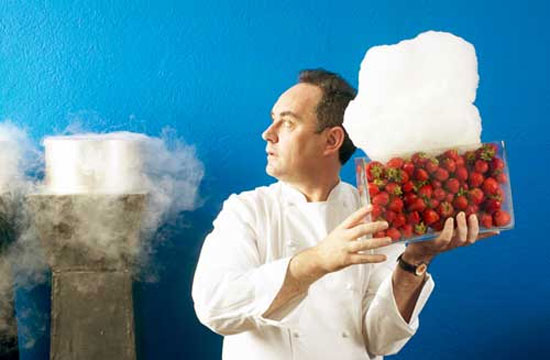 Sad food lovers, there is a very good reason that Ferran Adria has turned his focus to the El Bulli Foundation instead of making you foams and ices in the now-closed kitchens of El Bulli. It's because, as he writes in a recent BBC op-ed, he wants to push the boundaries of cuisine, one of the few arts that "enjoy[s] the rare gift of limitless potential," and merge that with the internet.
Hence, BulliPedia: the free-access online database of all of el Bulli's formulas, algorithms and recipes from their decades in operation. To fully appreciate how big of a deal this is, here are some comparisons:
Nerds, pretend that Google became open-source.
Lawyers, pretend that every day was a Constitutional Convention without any of the overdrawn ratification process.
Businessmen, pretend that Coca-Cola just released their secret formula.
Potheads, pretend that the DEA opened up every single evidence locker full of weed in the country.
But BulliPedia isn't just a new online database full of recipes and curated culinary knowledge. Adria hopes that one day, BulliPedia will connect chefs and culinary enthusiasts with each other from around the world, and track their collaborations.
"I firmly believe that as a chef if you only speak to other cooks you'll get bored," he writes, evoking comparisons with prominent scientist and non-chef Nathan Myhrvold. "Bullipedia uses cooking as a language and eventually it'll connect with other disciplines such as design and architecture."
Moreover, he advocates, the culinary world needs to fully embrace the power of technology, specifically the internet — not just as a marketing tool, but as a means for innovation. "I believe that it will now sit at the heart of gastronomy and be a fundamental driver of innovation in the industry," he affirms.
"We have journeyed part of the way to discovering the genome of cuisine. Digital technology will allow us to take the final step."
Have a tip we should know? tips@mediaite.com