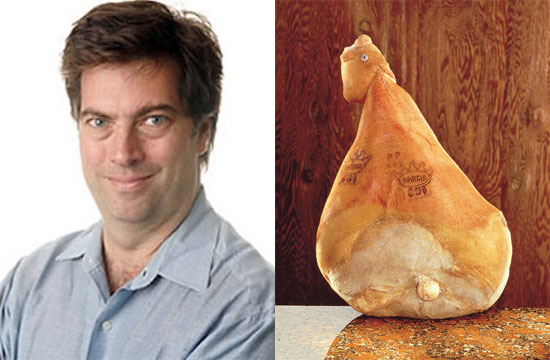 Today we learned that Prosciutto di Parma has its own Twitter account, which means — oh no — we've been eating sentient ham all this time. Oh…no. What have we done!? We've been serving it with cheese. We've been draping it on our pizzas. We've been wrapping its thinly sliced corpses around our figs, and we never heard its agonizing screams as we tore poor prosciutto's flimsy muscles apart with our teeth.
No wonder Rich Torrisi and Mario Carbone replaced Prosciutto di Parma with an "aged country ham" from Kentucky in one of their dishes. We applaud their ethics, and so did New York Times dining critic Pete Wells in his three-star review of their new restaurant Carbone, praising it as an inspired "stunt double for Parma" — a Tofurky, if you will.
The official Twitter account for Prosciutto di Parma, however, could not stand for this grave insult against Prosciutto-kind: first Wells ate their young, then he couldn't even be bothered to call it by its real name. Prosciutto di Parma has feelings. Prosciutto di Parma has dignity. Prosciutto di Parma will not be treated like some piece of meat, and it will stand up for itself in the face of adversity and ham-icide:
@pete_wells except we're a little irked [email protected] you'd be satisfied w Kentucky Ham as replacement for Prosciutto di Parma!#nosubstitutionsplease

— Prosciutto di Parma(@ParmaHam_USA) June 7, 2013
Wells assured Prosciutto di Parma that he never meant to call the Kentucky ham a replacement (it's an "American original!"), but Prosciutto refused to accept that apology: "True, totally different product but you don't see them using domestic @OnlyParmesan (Parmiggiano Reggiano)!" Only when Wells pointed out that the Parmesan was domestic did the Prosciutto retreat, promising to research Carbone (by booking all the tables there) to exact cold, brutal revenge.
Wait: Parmesan is sentient, too?! 
[h/t Grub Street]
Have a tip we should know? [email protected]