Food Network Tries to Compete With FOX's MasterChef Junior With Kids Baking Championship
They can smell a hit a mile away — especially when said hit is on a different network.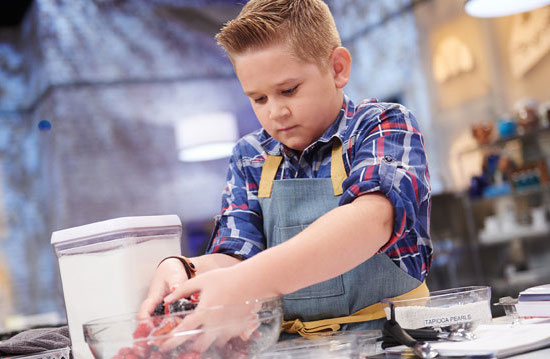 Since MasterChef Junior has already had a good run (seriously, did you know there's ANOTHER season of MasterChef Junior premiering tonight? We just wrapped up season 2!), Food Network is like YEP, GIVE US SOME OF THAT. So while we fawn over adorable bakers over on FOX, Food Network will premiere a new series with Duff Goldman called Kids Baking Championship.
According to a press release, eight bakers ages 10 to 13 will go through rounds of challenges to test for skills and originality. The grand prize is uh, rather lackluster: "a sweet prize package that includes a complete set of Food Network bakeware products, a profile in Food Network Magazine, an original cake featured at Charm City Cakes and a $10,000 grand prize." Uh, MasterChef Junior winners get $100,000. Just feast on that for a hot second. Oh, and actress Valerie Bertinelli will be there too, judging. Goldman is a treasure, the other … well, let's move on.
Eater reminds us that there is another Food Network show with kiddos, the Rachael vs. Guy: Kids Cook Off. While we solidly believe that kids are the future (and the only food TV show we'd willingly watch these days), we're not sure that Food Network can swoop in on MasterChef Junior's success. Is it the Gordon Ramsay / Joe Bastianich / Graham Elliot dream team that keeps us coming back? (If so, we'll be sorely disappointed after next season when Bastianich leaves the MasterChef franchise.) Is it the challenges? The adorable talent? Can we give into another kids cooking TV show? So many questions, so little coffee.
[Scripps Interactive Network h/t Eater]
Have a tip we should know? tips@mediaite.com