Fun Read of The Day: The Story of An Indian Fast-Food Mogul And Convicted Murderer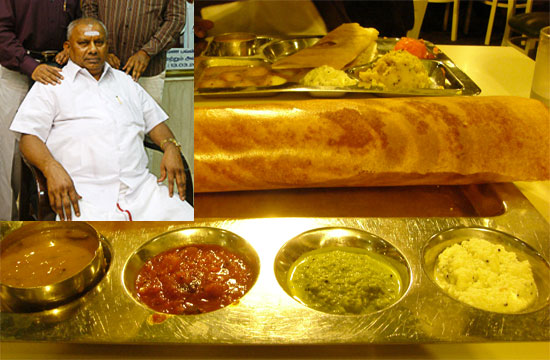 Our fun read of the day is this longform article from the New York Times Magazine, about P. Rajagopal, the multimillionaire owner behind an international chain of vegetarian restaurants called Saravana Bhavan. Rajagopal's known as a philanthropist, an extraordinarily generous boss to 8,000 employees (their working conditions and perks are repeatedly compared to those of Google), and a rare rags-to-riches success case.
Rajagopal was also convicted of murdering the husband of his prospective wife and sentenced to life in prison, of which he served 11 months. Yep:
In 2002, the year that he opened franchises in Singapore and Sunnyvale, Calif., Rajagopal was charged with murdering the husband of a woman he wanted to marry. In 2003, his restaurant expanded to Canada, Oman and Malaysia, and he went to jail for the first time. In 2004, a local Chennai court sentenced him to 10 years in prison. By the end of that year, the empire had opened 29 branches worldwide.

Eight months into his prison term, the Supreme Court suspended Rajagopal's sentence on medical grounds while awaiting appeal, citing his diabetes. In 2009, the Madras High Court not only upheld the verdict but also upgraded the conviction from culpable homicide to murder and enhanced his sentence to life in prison. After another three-month stint, he was out on bail pending a Supreme Court hearing, which no one expects to happen anytime soon. The courts won't give him back his passport, but otherwise he's free to go about his life. All but one of Saravana Bhavan's 47 foreign franchises have opened in the 12 years since the murder.

"It's amazing how he managed it," said Sriram V., a local historian. "I mean, our legal system is not that bad."
Read the rest of the story here, and try not to feel too guilty when you inevitably grow hungry while reading about dosas. 
[NYT]
RELATED:
Tonight in Food TV: Anthony Bourdain Is Vomiting-Scared in Parts Unknown
Teen Who Stole Guy Fieri's Lamborghini Sentenced to Life in Prison
Murder Suspect Chris Dorner Bizarrely Name Drops Anthony Bourdain In Cop-Killer 'Manifesto'
Have a tip we should know? tips@mediaite.com