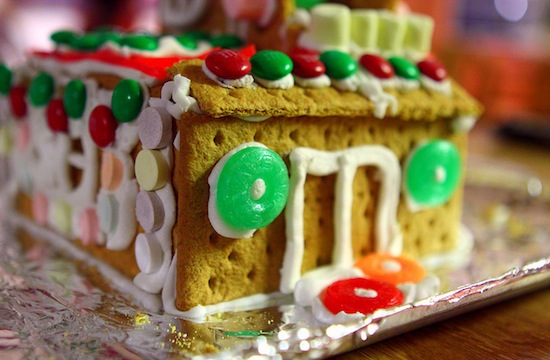 Put this on your calendars, New Yorkers — you can now go see a gingerbread "village" (because house is not the most accurate description) that weighs 1.5 tons, holds 164 "structures," and contains more than 200 pounds of frosting. So much frosting, so little time.
The New York Times says this gingerbread monstrosity, made by chef Jon Lovitch, is the world's largest edible gingerbread "exhibit," as proven by a Guinness World Record title. The little village includes a railroad station (called "Cinnamon and Nutmeg"), ice rink, and a firehouse (because villages need somebody to put out those fires). We don't know what to be more in awe of — the village, or Lovitch's dedication to a freaking gingerbread house itself.
The New York Times reports that Lovitch's creations grew larger and larger over the years, motivated by an early loss as a teenager in a gingerbread house competition. (Wherever those competitions are, we want in.) Now, he shells out a few thousand dollars on making new gingerbread creations every year, and hopes to eventually quit his day job as a chef to do this FULL TIME. Said Lovitch to the NYT, "My wife likes the fact that I work on it at home and I'm not out gambling or drinking." Well, that is one way to look at it.
Still, we cannot fault a man who brings a lot of joy during the holiday season.
"It's Candyland," one child yelled, peering at the village.

"Think of the cavities you'd get, eating all that," marveled another….

"People ask me why I do this masochistic hobby, that is insanely laborious and a huge amount of work," he said, pointing at the crowds of excited children. "Well, that's why."
You can find Lovitch's Guinness record-breaker now at New York Hall of Science in Queens, or a smaller, three-story gingerbread creation (how modest) at the New York Marriot at the Brooklyn Bridge, where he works.
RELATED:
WATCH: Jacques Torres Makes Gingerbread Houses Out Of Chocolate Chip Cookie Dough
WATCH: Bill Yosses Builds A Gingerbread White House In One-And-A-Half Minutes
WATCH: Conan Puts A Cherry Bomb In A Gingerbread House, Records The Explosion In Slo-Mo
Have a tip we should know? [email protected]