'Grant Achatz' And Other 'Celebrity Chefs' Create 'Recipes' For Kellogg Crackers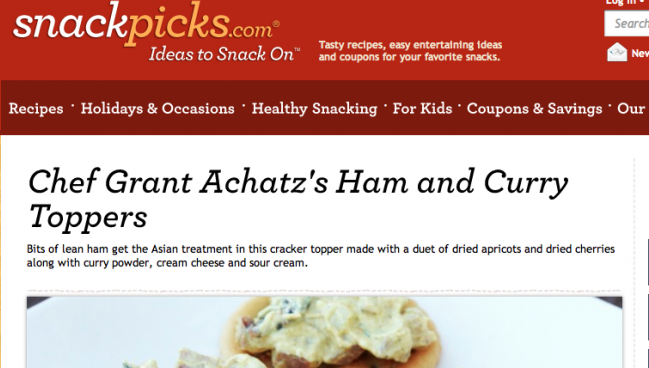 Ever wish that 3-Star Michelin Chef and molecular gastronomy master Grant Achatz could help you plan for your next neighborhood get-together? Now you can, with his Ham and Curry cracker toppers courtesy of SnackPicks.com!  And after we stumbled across this gem of a website via an ad last week on Eater.com, we have to thank SnackPicks.com for showing us the heights of haute cuisine:
"Bits of lean ham get the Asian treatment in this cracker topper made with a duet of dried apricots and dried cherries along with curry powder, cream cheese and sour cream."
It's just like Alinea…but on a cracker.
And what exactly is this company that brings the most forward-thinking cooking into America's living rooms? SnackPicks.com is a lovely site run full of "great food ideas that bring busy families together" via recipes prominently featuring Cheez-its, Keebler crackers, and Rice Krispies Cereal. The site may or may not be run by the Kellogg Company, and by that, we mean it totally is.
For some reason, Grant Achatz (and his doppelganger "Grant Actatz," who pairs sweet potatoes with bourbon and raisins) love to use Keebler Town House Toppers crackers for their recipes.
So does James Beard Award-winning chef "Brad Thompson", whose "elegant appetizers feature rich cream whipped with red pepper and prosciutto-wrapped asparagus bits."
"Alison Barshak," whose Mediterranean cuisine has won her raves in Philadelphia, suggests a "south-of-the-border" cracker topping with Serrano peppers, shrimp and avocado.
And Michelin-starred "Shea Gallante" thinks that busy moms looking for a sophisticated party snack would love his Fresh Ricotta Cheese With Roasted Apple Toppers (on the versatile yet delicious Keebler Town House Toppers crackers, of course.)
Thank you, Kellogg — and especially you, SnackPicks.com — for bringing the work of these "fine culinary minds" into the homes of everyday Americans. In these tough economic times, normal folk can't afford to drop $700+ on a dinner where people burn oak leaves on branches skewering chunks of sous-vide pheasant and apple. Your efforts are truly democratizing America.
And in case it wasn't clear, we highly doubt Kellogg's and/or SnackPicks.com received permission from these chefs to use their names (let alone these "recipes"). We smell a lawsuit…
(Also, thank you, "Grant Actatz," for highlighting the native flavors of my Asian heritage on a cracker filled with cream cheese.)
Update (6:19 PM):  The Chicago Tribune reports that the original "Grant Achatz" recipes have been taken down and that a Kellogg spokesperson says that the company is investigating.  Nick Kokonas, co-owner of Alinea, states that they did not authorize the use of Achatz's name.
We've reached out to Kellogg about the use of the names of other chefs, and have not received a response.
Update (5/16, 11:02 AM):  Though all of "Grant Achatz/Actatz's" recipes have disappeared from SnackPicks.com, his legacy lives on on Eater.com: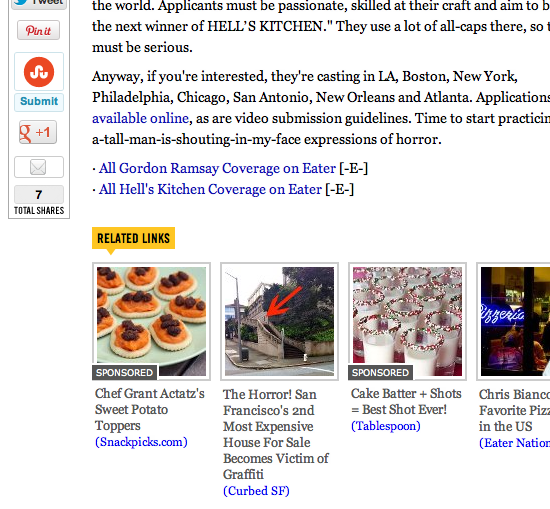 [slideshow id=12]
Have a tip we should know? tips@mediaite.com