WATCH: Dr. Phil Offers Guy Fieri Therapy In Exchange For Hair-Styling Tips On Today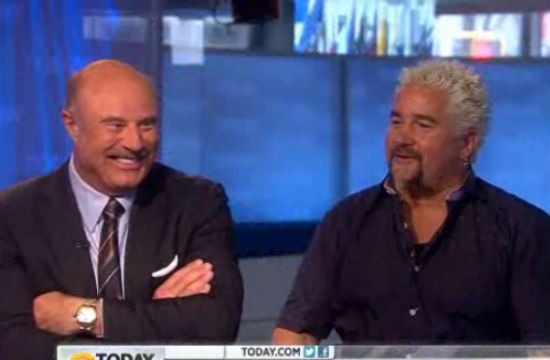 After whistle-blowing what must have been a super awkward New York Times party at Guy's American Kitchen and Bar last night, Dr. Phil weighed in on Pete Wells' blistering review this morning on the panel of Today's Professionals.
Ad exec Donny Deutsch doesn't have a problem with anyone criticizing anyone, and, in fact, was optimistic about the review, even encouraging Guy to flip it into a marketing tactic. Well, who saw that coming? Star Jones thought it was mean-spirited. Dr. Phil had this to say, before offering to swap Guy therapy for hair-styling tips:
"I've got a problem with these critics. The language in this article tells me it was more about [Pete Wells] trying to find ways that he could flourish and embellish and lift himself up than it was about telling people about the restaurant. I mean, come on. This was way across the line. And you know what really bothers me? Two things: there are 250 people working at this restaurant. He's entertaining himself and inflating his ego at the expense of 250 hardworking people that are down there trying to do a good job. That bothers me a lot…This wasn't about the food. It was about the critic."
Guy sat quietly on the panel, listening to his fellow professionals' defense of his food (really!). He graciously thanked them afterward, and went on to thank The Today Show for giving him the opportunity to defend himself this morning. You guys, Guy Fieri flew to New York on a red-eye after a parent-teacher conference to "face this." He really appreciates your speculation.
Visit NBCNews.com for breaking news, world news, and news about the economy
Have a tip we should know? tips@mediaite.com