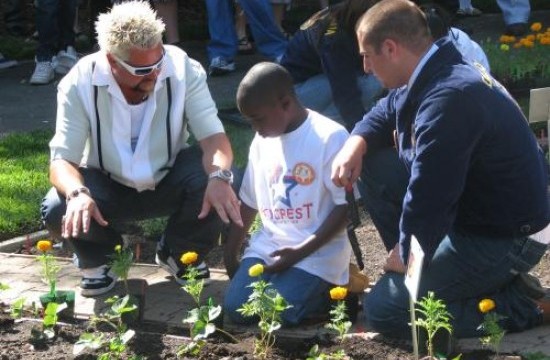 Picture, if you will, Guy Fieri. Recall that you, and we, have long held the belief that he is a peddler of grease pornography and the anti-grammar fascist. (The Misspelling Bolshevik?) Now throw all those ideas away, because this interview with Food Republic portrays his personal eating habits as almost Alice Waters-esque. (Oh, the dual and contradictory nature of kewl dudes!)
Not only does Guy know how to cook a catfish en papillote, he adores bulgur and cauliflower, has eaten a few cat testicles ("I'm not Andrew Zimmern," he demurs), and tries to remind people that he's featured kale on his daytime cooking show a few times. And lest you think he's just being a veggie poseur, he legitimately loves eating organic:
 I have a huge organic garden that I am looking at right now with 10 different peppers, three different kales and tomatoes galore. Unfortunately, that's not what everybody gets to see: they see a guy with spikey blond hair and some tattoos driving a hot rod around and they want to say that all this guy has eaten is corndogs…

And we just built a big chicken coop, so now I have 16 free-range organic chickens. The coop is the size of most apartments. It's really neat and that's what we've been using on the show.
Oh goodness. How exactly is the Gaia Fieri depicted above, the same person who opened the food brothel of the Ed Hardy district, and conceptualized this menu? It's really the nature of the business, specifically:
I'm a huge organic fan, but how do you translate that on [Diners, Drive-Ins and Dives], you know? I translate that a lot on my cooking show, but the volume of people that watch a primetime show at night versus the cooking show that they air during the day is much greater. If I chased everybody around trying to explain my real energy and attitude about all this, I don't think it would be a waste of time, but people discover what they want to discover.
Excuse us. We have some paradigms that shifted accidentally, and we need to figure out what kind of world we live in now.
Have a tip we should know? tips@mediaite.com