Chipotle Worker Who Made Silly Face Next To Romney: I Make That Face 'When I'm Excited'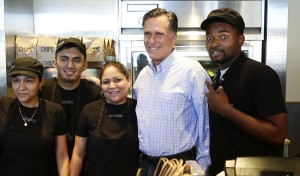 Everyone has a different way of demonstrating excitement, and 20-year-old Chipotle Grill manager Marty Arps, whose claim to fame was making a silly face next to GOP presidential candidate Mitt Romney on Tuesday, says he shows his thrill through odd expressions.
"It's a facial expression I do when I'm excited," Arps told The Daily hours after the picture was snapped and had made the rounds on the Internet. "There was nothing political. He was just a customer."
Romney isn't the only public figure Arps has had such a reaction to. The same thing happened when he encountered rapper Nicki Minaj:
"I [did that] when I met Nicki Minaj. It's like, 'Ah, it's them, right there in front of you!' They're not from another world.'"
Given the startling manner in which the presidential candidate showed up to Chipotle, it's no wonder that the young man was visibly affected by the experience. Seemingly out of nowhere, a motorcade of cops, flood of Secret Service agents, and string of reporters arrived at the restaurant yesterday morning.
"All of a sudden you see these black SUVs come up really quick and I thought we were about to get robbed."
The exact opposite happened. Romney had an $18.25 dollar tab and handed over a twenty, letting the Chipotle employees keep the change. The meeting and snapshot may not gain Romney a vote from Arps though, as the Denver worker says he remains undecided on who he'll support in the election.
Read the full article here.
[h/t Gawker]
—
>> Follow Laura (@LauraDonovanUA) on Twitter
Have a tip we should know? [email protected]