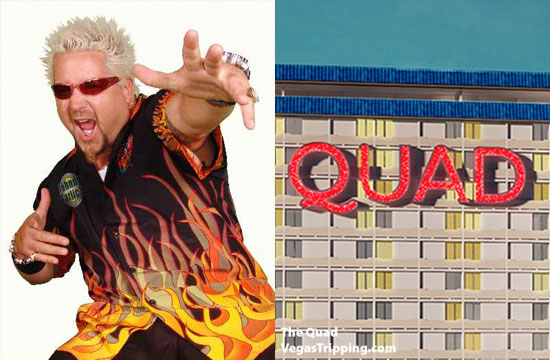 Well, we can't be too surprised by this turn of events — Las Vegas is the Times Square for addicts, after all — but we suppose it's still newsworthy: Guy Fieri announced today that he's opening a restaurant on the Strip, in front of the world's biggest ferris wheel. (Still not surprised.)
While we'll gladly provide the details of the upcoming restaurant in a few paragraphs, the most pertinent question is: how does one take a restaurant that looks like it fell through a spacetime portal connected to Vegas circa 1996, and make that even more Vegas-y? Guy, who went to college at UNLV in the '80s, told the Review-Journal that he has just the idea:
"I know when I go out, I like to have my high-end experience, I like to have my quick-and-easy experience, but I often want something in the middle. You'll feel like you're sitting in one of your favorite places," with "an eclectic mix of food in a real fun environment. And the restaurant's beautiful, with high ceilings and huge glass windows overlooking the Strip," plus a lot of wood and raw metal.
This Vegas Frankenrestaurant won't open until later this year at The Quad, and currently has no name — but we suggest "I, Guy Fieri, Am Worth Many Millions Of Dollars And Pete Wells Can Suck It."
[Las Vegas Review-Journal via Grub Street]
Related posts:
The Top Ten Worst Burns From Pete Wells's Review Of Guy's American Kitchen + Bar
After Harsh Review, The New York Times Held A Party At Guy's American Kitchen + Bar
Have a tip we should know? tips@mediaite.com